PHOTO: GETTY
Michelle Obama, Former First Lady
"I want our young people to know that they matter, that they belong. So don't be afraid. Be focused, be determined, be hopeful, be empowered…lead by example with hope, never fear, and know that I will be with you rooting for you and working to support you for the rest of my life."
When the Obamas left the White House, on January 21, it wasn't just the President we knew we'd miss. Michelle Obama has been a warm, powerful and welcoming force during her husband's presidency and her advocacy for women and girls has reached around the world. Don't expect that to stop just because she's no longer First Lady.
The Obama Foundation is currently working on a plan for what comes next, and there's no doubting that whatever it is, Michelle Obama will be at the forefront, leading by example with a commitment to bettering the lives of people everywhere. Because, as we know from her time as First Lady, that's what Michelle Obama does best.
You can follow Michelle's work , and .
MORE STORIES YOU'LL LOVE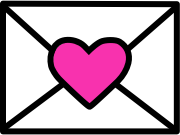 Sign up to receive
instant happy in your
mailbox every day.