This 90-Year-Old Has Charmed Us All...Even Simon Cowell
When I grow up I want to be Dorothy Williams.
Williams, 90, shocked everyone on Tuesday night when she took to the America's Got Talent stage.
"When I get on that stage, I want to prove that you're never too old to follow your dreams," she said. And what a dream it was. Because Williams' dream was not to sing or tell jokes. Her dream was to be a burlesque dancer.
Off went the red feather boa and skirt and out came the nipple tassels. The nonagenarian shimmied and shook what she's got all over the stage and the crowds, in the audience and at home, went wild.
Oh...my...gosh....

— Adam Knox (@adamklaughtalk)
This lady pretty much made my entire night. Go Dorothy Williams! 👍🏻👍🏻👍🏻 pic.twitter.com/nAEPFPq808

— Jax (@LifeJax)
Well, guess is definitely breaking the idea of what 90-year-olds can do.

— Carmel Perez Snyder (@cperezsnyder)
"I have to say, you're 90 years old: Good for you," said Mel B. "Good for you!"
Heidi Klum called the performance "really, really special". judge Howie Mandel. "You are a great example. You are inspiring. I think you should become a star and I'm so glad that you're here."Even Simon Cowell was a fan, calling the 90-year-old Hawaii-based widow "fascinating"—not without a little Cowell-esque criticism. "I think we need to work a little bit more on the tassels," he said. Speak for yourself, Simon.
Inspired by Williams, host Nick Cannon decided to break a rule himself. "We had a conversation backstage and Miss Dorothy told me that all she dreamed about all her life was being a star and a moment like this. I told her, 'A star is born tonight,' " Cannon said. He explained that all four judges had already used their "Golden Buzzer" (which sends the contestant directly to the live finals), he didn't care. "But you know what? I don't care," he said. I'm going to break the rules."
So Williams got her golden buzzer. She is going to the finals, and if this routine was only her audition, we can't wait to see what she has in store for us there.
A 90-year-old woman went on a major network television show and embraced her sexuality. She broke every single rule about what a woman her age should be doing. Dorothy Williams is a feminist hero.
MORE STORIES YOU'LL LOVE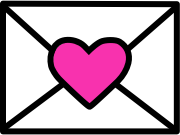 Sign up to receive
instant happy in your
mailbox every day.