Cindy Chafian Needs a Kidney, so Her Husband Is Giving Her His
China is the traditional gift for one's 20th wedding anniversary, but Cindy Chafian's husband Scott is giving her something much, much better.
A kidney.
Cindy was diagnosed with polycystic kidney disease when she was in her late 20's. Despite having had multiple surgeries, and having been on dialysis for the last two years, her health has gotten progressively worse.
"It's devastating," her husband Scott Chafian told WTKR, "it was just a feeling of helplessness."
Six years ago, Scott decided to offer his wife one of his kidneys, but Cindy didn't want to take it. But when her health took a sharp decline this year she realized she had to take him up on his offer.
"I hit kind of rock bottom, and I looked at him and I said okay, I'm ready," Cindy told WTKR.
So, on January 24, the day before their 20th anniversary, Cindy will receive one of Scott's kidneys.
"He called me and he told me that everything was a go," said Cindy. "He gave me a date and that was the first time I allowed myself any emotion and I actually cried."
Now, Cindy says she couldn't be happier with the gift she is about to receive from her husband.
"To know that he's kind of giving me that ability is even more of an amazing gift," she said. "He powers me in so many ways...he is literally going to give me life. So it's an amazing gift."
Both Cindy and Scott will be unable to work for a couple of months after the surgery while they recuperate so, a GoFundMe page has been set up to help them cover costs.
We wish them the best and hope they have many more anniversary's ahead of them.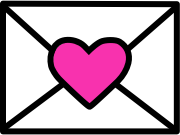 Sign up to receive
instant happy in your
mailbox every day.