Run Don't Walk: 8 Budget Beauty Buys to Get Today
In case you hadn't noticed, there are gazillions* of beauty products out there in the world (*rough estimate).
Thanks to the abundance of choice, it can be hard to decide which items are worth a try. To lend you a little shopping inspiration, we're sharing the makeup and skincare products we can't get enough of right now.
1. Clinique Extra Gentle Cleansing Foam, $20.
For all of us who are past our late-20s, the harsh foamy cleansers of our youth just won't cut it. This cleanser will help you make the transition: it's sulfate-free, contains salicylic acid and capryloyl glycine, so it's still effective for oily complexions. Glycerin also has a starring role in preventing your skin from losing moisture. No squeaky tight feeling after using this guy.
 2. COVERGIRL Outlast Stay Luminous Foundation, $11.95.
This offering is gorgeous. It's vitamin-infused and has a light-reflective complex that adds oodles of radiance, yet it's long-lasting and gives solid medium coverage. At under $21, it's a great budget option. It's also perfect for people with oily skin, it will leave you dewy, not shiny.
3. MAC Studio Waterweight SPF 30 Foundation, $33.
This MAC foundation isn't going to leave you feeling like you applied your makeup with a shovel — as the name suggests it's a 'fluid' formulation. In practical terms, this means it doesn't go on too heavy and you can build up the coverage as you like. It gives you that dewy look and doesn't involve too much careful blending, which is great for rookies. A word of warning — it's a glass bottle, so you'll want to keep it in a safe spot where it won't topple onto the bathroom tiles.
4. IT Cosmetics Brow Power Universal Eyebrow Pencil, $24.
There's a lot to like here. The slightly rounded tip doesn't create lines that are too harsh or sharp, while the double-ended design makes for quick, easy application and brushing. The universal shade is a solid bet for most people.
5. Too Faced Milk Chocolate Soleil Bronzer, $30
This bronzer's cool tones work really well on pale skin tone, and it's great for subtle contouring and adding color natural coloor. And it smells like chocolate. Absolute winner.
6. The Lip Lab Custom Lipstick, from $45.
This genius store allows you to design and make your own lipstick or lipgloss with a totally custom shade created right before your eyes. Amazing. Their lippies are matte without being drying, highly pigmented, so they'll withstand a whole night of food and cocktails without requiring a whole lot of application.
7. Estee Lauder Nightwear Plus 3 Minute Mask, $45.
This clay mask is ace for sensitive skin and draws out all the impurities. Follow it up with a face oil and the next day your face will feel smooth and silky smooth.
8. Rimmel Wake Me Up Foundation,
Rimmel products are generally great, and this is no exception. It's incredible value and provides solid coverage throughout a work day. It feels like a moisturizer when you apply it and isn't cakey at all.
MORE STORIES YOU'LL LOVE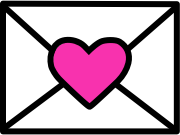 Sign up to receive
instant happy in your
mailbox every day.