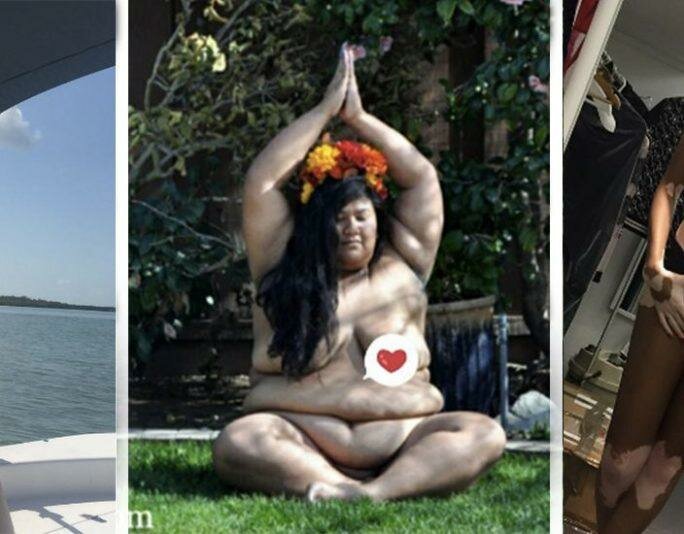 PHOTO: @LENADUNHAM  / @BIGGALYOGA / @WINNIEHARLOW (INSTAGRAM)
11 Body Positive Instagram Accounts to Follow Right Now
We're all pretty sick of "fitspiration".
Instagram accounts dedicated to showing you perfectly-toned abs and "before" and "after" weight-loss shots are just depressing. Everyone's been down that black hole: you look at one photo, and then another, and another… until finally, you're 178 weeks deep into some model's photo-a-day feed.
It's not only depressing, it's boring. So stop following those accounts and start following these ones.
These women show themselves in a happy, positive way without obsessing over perfection. They're normal people, who don't have necessarily have time to spend six hours a day in the gym, and they're perfectly content with that.
These women should be your body inspiration. Check them out.
 1. Lena Dunham
The Girls creator is always posting pics of herself, and whether it's in a strange outfit choice, or just wearing not much at all, she's always looks very chill with it. "It" being her body, her style, the world at large…whatever.
2. Nike Women
The sports brand recently posted pics from a new campaign with models of all shapes and sizes, as well as super strong women like Serena Williams and Simone Biles.
 3. Ashley Graham
The curvy model often posts inspirational body love quotes, as well as sexy shots of her incredible "swim body", a term she prefers over "bikini body".
4. Stylehasnosize
A gorgeous mix of self-love quotes and style inspiration for all women.
 5. Alternativecurves
A celebration of tattoos, curves and bold hair choices.
6. Winnie Harlow
She has vitiligo, a condition that results in the loss of skin color from blotches on the skin, but it hasn't stopped her from dominating the fashion scene.
 7. @MyPaleSkinBlog
"Self-taught makeup lover" Em Ford shows her natural face and gives honest tutorials in how she covers blemishes.
 8. Amy Schumer
She'll never make you feel bad about eating cake or skipping a gym session. And she's perfectly happy to show herself looking both glamorous and totally natural at the beach.
 9. Hari Nef
The transgender model celebrates diversity and intersectional feminism.
10. Loveyourlines
Wrinkles, stretch marks and scars. We all have them, and this Instagram account celebrates them all.
11. Valerie Sagun a.k.a. biggalyoga. 
Sagun celebrates yoga as a practice for meditation and self-care, and celebrates all the bodies that do it. her account is a great reminder your salutes to the sun are about way more than pursuing a certain body ideal.