PHOTO: INSTAGRAM /
This Bride Wore Jeans to Her Wedding—and She Looked Fantastic
These days, it's not uncommon for brides to challenge the traditional wedding standard of a veil and a white dress.
But one bride took that to an entirely new level—by wearing jeans.
Brooklyn-based stylist Claudia Cifu sported a pair of jeans at her wedding, and she couldn't have looked more elegant. Her ensemble included a gorgeous floor length, sheer, cream-colored top layered over her denim, as well as some stunning accessories.
Of her unconventional choice, Cifu told Vogue, "I knew that I didn't want to wear anything white. I wanted the outfit to feel very me…I don't think either of us ever saw ourselves having a conventional church wedding."
Cifu's love story with her now-husband is as far from typical as her outfit.
"We met two years ago after I planned a solo soul-searching trip to Panama. I put a posting up on Facebook to rent out my New York City apartment while my roommate and I were out of town, and an old acquaintance from Finland responded that she knew another Finnish person looking for somewhere to stay in New York," she says.
From there, the rest is history. The two decided to go for a casual City Hall wedding, with only their parents and a few close friends in attendance.
Despite the casual nature of the ceremony—and Cifu's jeans—the couple pulled off a wedding that seems pretty special.
MORE STORIES YOU'LL LOVE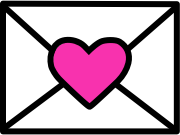 Sign up to receive
instant happy in your
mailbox every day.