PHOTO: ISTOCK
Cardinal Rules for Purging Your Home, Because It's Time
New York Times bestselling author Marie Kondo wrote an entire book on decluttering. According to her, we should hold any item we're considering getting ditching to our chest. Anything that doesn't bring us joy goes in the garbage.
This not only seems potentially illogical, but quite tedious.
Instead, it might be more beneficial to take a look around the rooms of our homes, and muster the courage to toss things because we just don't get enough use out of them, or because they're on their last legs.
Here's what to purge from each room in your home.
From your kitchen:
Toss: Unnecessary tools, cookbooks, bulky equipment.
It's aesthetically pleasing, but is that KitchenAid really ever getting any use? (Okay, maybe the KitchenAid is a bad example. But what about that clunky juicer?)
From your bathroom:
Clean out: The medicine cabinet, under-the-sink storage, make-up drawer.
Chunky nail polish = garbage. In fact, chunky anything.
And get rid of all those little sample packets. If you haven't used them yet, you're not going to.
From your closet:
Toss: Anything you haven't worn in the last six months.
Except for that gorgeous dress with the tags still on it that has yet to see it's well-deserved day in the sun. Hold onto that.
From your living room:
Toss: Beat-up throw pillows and blankets, junk on the coffee table.
Try keeping coffee table accessories in a tray to prevent it from looking chaotic.
If your home still feels cluttered after all this, then maybe its time to try the does-it-bring-me-joy test. Maybe.
MORE STORIES YOU'LL LOVE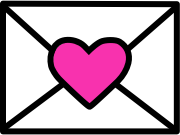 Sign up to receive
instant happy in your
mailbox every day.