PHOTO: GETTY
9 Celebrity Couples Who Decided to Skip the Circus and Elope
A celebrity wedding is a huge event, where millions are spent, friends are lost over spilled secrets, and paparazzi drones circle as you say "I Do".
Nice for some. Not so much for others.
Some celebrity couples decide to forgo all the hoopla and elope.
1. Amanda Seyfried and Thomas Sadoski
During an appearance on  last month, Thomas Sadoski showed off his wedding band and shared that he and Amanda Seyfried had quietly eloped.
"We just took off into the country with an officiant and just the two of us, and we did our thing," Sadoski said during his appearance. "She's the person that I love, admire, respect most in the world…"
About a week later, they welcomed their first child.
2. Kristen Bell and Dax Shepard
Kristin Bell and Dax Shepard eloped to a Los Angeles courthouse in 2013.
And the wedding cost only $142.
According to the couple, their friends called it the "world's worst wedding," but to them, it's still "one of the best days of [their] life".
3. Jennifer Garner and Ben Affleck
In 2005, Jennifer Garner and Ben Affleck got married on the beach in the Turks and Caicos Islands.
Victor Garber, who played Garner's father on Alias, officiated the wedding (and is now the couple's daughter—Violet's—godfather). He and his now-husband Rainer Andreesen were the only people present at the ceremony.
4. Kelly Ripa and Mark Consuelos
Live! With Kelly host Ripa and her husband Mark Consuelos eloped on a Thursday in Las Vegas in 1996—the day after he asked her.
Twenty years later, they're still together.
5. Daniel Craig and Rachel Weisz
Daniel Craig and Rachel Weisz married in New York in 2011 with just four people in attendance: Craig's daughter Ella, Weisz's son Henry and two friends.
Since then, they've kept their relationship as quiet as their wedding.
6. Jessica Alba and Cash Warren
Jessica Alba and Cash Warren married in a courthouse ceremony in 2008. Alba was nine months pregnant at the time.
Six months later they had a reception with all their friends and family, involving their daughter Honor.
7. Matt Damon and Luciana Barroso
Matt Damon met Luciana Barroso at a club in Miami in 2003 when she was working as a bartender. In 2005 they married in a ceremony at Manhattan's city Hall—so small, not even Ben Affleck was there. The only witness was Barroso's daughter, Alexia.
In 2013, the couple renewed their vows in front of 50 guests in St. Lucia.
8. Sasha Baron Cohen and Isla Fisher
After being engaged for six years, Sasha Baron Cohen and Isla Fisher married in Paris in 2010 in a traditional Jewish ceremony.
Ther were only six witnesses in attendance.
9. Harrison Ford and Calista Flockhart
In 2010, after nine years together, Ford and Flockhart finally tied the knot at the Governor's Mansion in Santa Fe, New Mexico.
New Mexico's Governor Richardson performed the ceremony and he and his wife served as witnesses, as did Ford and Flockhart's son Liam.
MORE STORIES YOU'LL LOVE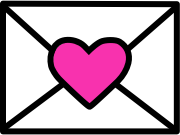 Sign up to receive
instant happy in your
mailbox every day.