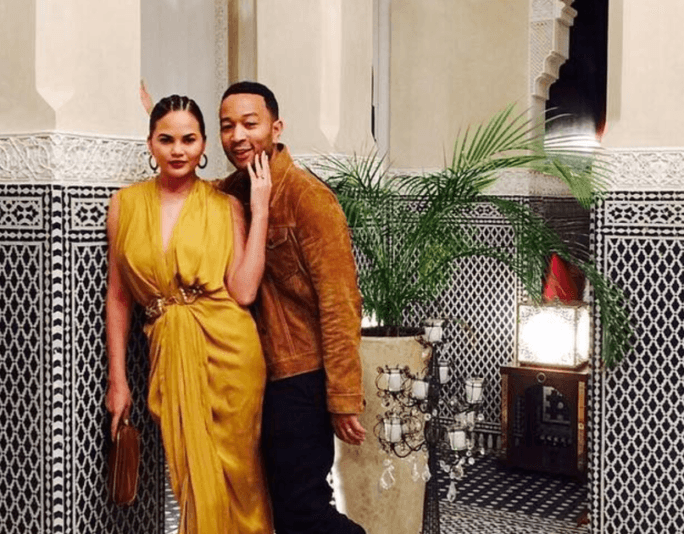 PHOTO: INSTAGRAM / @CHRISSYTEIGEN
From Where You'd Rather Be: Holidaying With Chrissy Teigen in Morocco
Another Monday, another Chrissy Teigen Morocco photo montage to make you want to quit your job and go and book flights immediately.
Remember when Teigen and John Legend went to Italy?
Of course you do—the banquet of beautiful photos, delicious food, and the way they somehow managed, by all appearances, to travel happily with a very small child.
Well, they're at it again.
Please note how perfectly Teigen's sandals match Legend's jacket here. Which gives you two options for planning your own vacation wardrobe: Give up now, or take assiduous notes.
For example, is this a jumpsuit?
Actually, who cares. I am again distracted by the sandal-matching—this time between Teigen's shawl and Luna's summer footwear.
Which also matches her first bow. (This might not seem like a big deal, but it is momentous if you've been following the slow growth of Luna's baby hair. Maybe I have. Maybe I haven't. Who can say.)
The Marrakesh holiday will be remembered by the adorable fam not just because of their excellent outfits, but because Luna said her first word.
The moment was caught on video and shared with Teigen's Instagram followers, naturally.
And the word? Cat.
You can watch the adorable moment below. Post continues after video. 
Not only that, but according to Legend's Instagram, Luna has learned to read. Standard.
And if you're any doubt about how relaxed everyone is, there's this. Because no holiday would be complete without a Hawaiian shirt:
Or an enthusiastic welcome from the locals:
Sorry it rained today Chrissy, usually Marrakesh is sunny. Please don't go :')

— أميرة (@az_amiral)
It's okay! We had movie day 🙂 https://t.co/ZfpaaiLpZ4

— christine teigen (@chrissyteigen)
I mean, no one's ever apologized to me for the weather on my holidays. Yet. But I live in hope.
I want to go to Morocco, please.