A Diy Decoration That Will Bring the Black-Tie at Home
Gist: Clear all those fancy bits and bobs from your eBay wishlist—here's a centerpiece that's cheap and easy to make at home.
Frankly: This morning on the way to the Flo & Frank office, I was secretly admiring a guy on the subway. He looked nice, and he was very tall (which I know I shouldn't care about as an innate quality in a partner, but it did mean I could see him over the heads of everyone else in the carriage.) Then, right as I was getting off at my stop, he turned to face me properly, and I saw he was wearing a bow-tie. As I walked to the office, I was torn as to whether I thought it was ridiculous or kind of dashing. I weighed up the pros and cons, and six blocks later, I realized it didn't much matter—either way, I was still thinking about him. Bow-ties make an impression.
I'm yet to master the art of turning my subway crushes into actual dates, but it hasn't stopped me spending most of today thinking about the bow-tie. So I almost laughed when I saw Pretty Frugal Living's DIY decor trick—except it's so easy I might just do it. The final product? An elegant bow-tie in a frame, perfect to put on a mantel, end-table or shelf. A charming conversation-starter, and also sort of what I imagine would happen if Etsy ate my subway boyfriend.
Anyway. I digress. Making this thing is super easy. "It's foolproof, it's fun, and you get to use makeup sponges," PFL's Amrita Singh tells us. (A line I'm going to use if I ever see subway boyfriend again.)
The only other things you need are some acrylic paints, a frame, and a sheet of paper you fancy the look of. Mix some paint, use the sponge to print a bow-tie shape onto the paper, put it in the frame, et voilà.
Bonus info: Amrita recommends using a color wheel—when choosing your paint, match the main color of the paper to its "complementary color" on the opposite side of the wheel to get the most pop.
MORE STORIES YOU'LL LOVE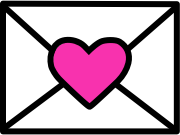 Sign up to receive
instant happy in your
mailbox every day.