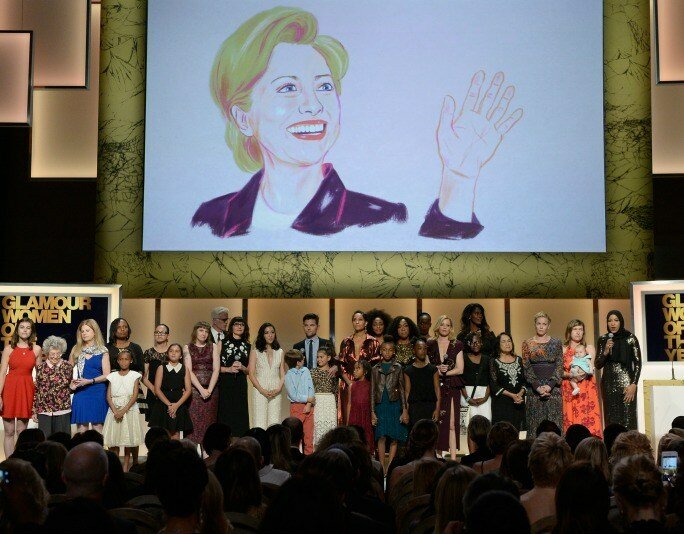 PHOTO: GETTY
Every Incredible Thing That Happened at Glamour's Women of the Year Awards
It's no secret 2016 has been hard, but for women, there have been some serious highs.
We've seen women we admire stand up and admit their struggles with mental illness. We've seen more than we know what to do with. We've seen (and are still seeing, post-election) what happens when a group of women stand together and fight for what they believe in.
At a time when women really need it, Glamour Magazine held an amazing awards night with women at the center of the celebrations.
It was a night to celebrate Glamour's Women of the Year—only slightly marred by controversy following the appointment of U2 frontman Bono as a recipient of the annual award.
Occurring one week after the U.S. election, there was a beautiful tribute to Hillary Clinton, stories of bravery and strength following adversity, and of course, multiple glass ceilings shattering.
These were the best moments.
Ashley Graham dedicated her award to others who didn't fit the "norm". 
"This is for the girl who got into a bikini for the first time this year...For the girl who said, 'No, I'm not going to lose weight for you, boyfriend," she said.
"I let my body hold me back for so long. Don't let your body hold you back."
Gabourey Sidibe, Freida Pinto and Amber Heard did a powerful reading of Stanford survivor Emily Doe's victim impact statement.
Doe, who remains anonymous, added a new statement through Stanford Law professor Michele Dauber.
"Together, we are louder than any system or person who threatens to silence us," the statement read.
"Now, like never before, we are indignantly rising."
Many glass ceilings were shattered.
Guests were asked to shatter glass and tell us why they were doing it.
Anna Wintour: "For my daughter and every young woman in her generation."
Lena Dunham: "For my grandmothers Dorothy Trussell Simmons and Carol Marguerite Dunham."
The founders of Black Lives Matter lead the audience in a powerful chant.
Alicia Garza, Patrice Cullors, Opal Tometi were introduced by Shonda Rhimes and made a powerful impact with their speech.
Cullors addressed the audience and asked them to make this their mantra.
"It is our duty to fight for our freedom. It is our duty to win. We must love each other and support each other. We have nothing to lose but our chains."
Bono made a heart-felt speech about equality.
His time on stage began with jokes about him being named Man of the Year at a Women of the Year event, but he soon addressed the crowd to talk about his wife and daughter.
"There is nowhere on Earth where women have the same opportunities as men, and that unless we address this problem, both women and men together—our world will continue down this misogynistic, violent, and impoverished path," he said.
"I say to the president-elect: Look across to women. Make equality a priority. It is the only way forward."
A celebrity-filled tribute to Hillary Clinton.
Celebrities like Lena Dunham, Shonda Rhimes and Elizabeth Banks took to the stage and thanked Hillary Clinton for all she had done.
What. A. Night.