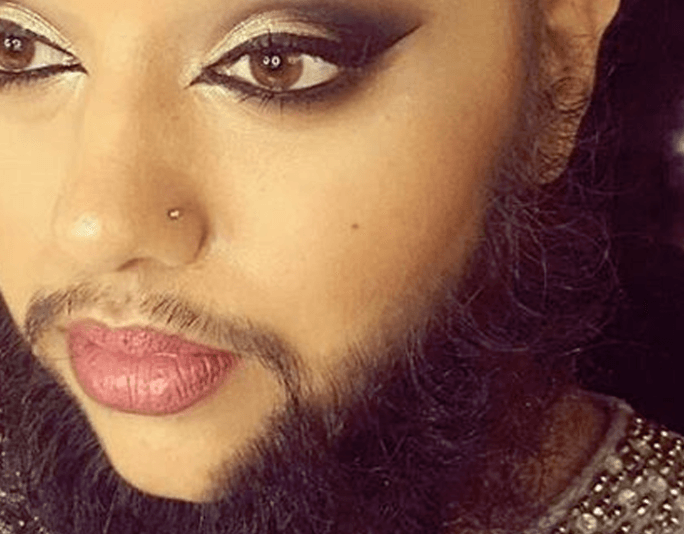 PHOTO: @HARNAAMKAUR (INSTAGRAM)
Body Positive Role Model Harnaam Kaur is Breaking Records
25-year-old model Harnaam Kaur is officially the world's youngest woman with a full beard.
In a post on Instagram, the model and body-positive activist known as the "bearded dame" announced that she will be included in the 2017 Guinness World Records.
"I have been wanting to publish this news for absolutely ages, but I had to keep things under wrap until the booked launched (today)," she on Thursday, along with a photo of her showing of her world record certificate for "the youngest women with a full beard".
"I am super proud to hold this record, the inner child in me is so pleased."
"It is amazing to be valued and celebrated being a Bearded Lady. I am proud to hold this amazing record 🌺," the model continued.
"I hope those who read or see my record can take away positivity, inspiration and realize that no matter who you are or what you look like, you are officially amazing!"
Kaur started to grow a beard when she was 11 years old as a result of hormonal disorder polycystic ovary syndrome. Growing up, she waxed her face and body three times a week —but was bullied nonetheless.
It took her a long time, but she eventually learned to embrace her beard and even love it.
And in February this year, Kaur became the first female with a beard to walk the runway during London Fashion Week.
After that experience, she posted the above photo of her, "Walking past my haters like…💃🏽✌🏾️✌🏾💪🏾💪🏾👌🏾👌🏾💯💯😎😎 " and .
"I remember beating beaten, touched in uncomfortable places and being made to feel embarrassed in front of the class!" she writes.
She remembers being laughed at every day, and the physical and emotional pain her classmates caused at school. She remembers tears in the bathroom, and the suicide notes she wrote in the library.
She remembers there was no one willing to help her.
But after walking the show in February, Kaur decided to thank her bullies.
"I thank my bullies for throwing me to the ground which allowed me to stand up taller and stronger!" she writes. "When someone has been beaten down, the only way is up! This is me walking past my haters."
Now she's a world-record holder, it seems more apt to say she's sprinting past them.
Congratulations, Harnaam.
For more about Harnaam Kaur, check out the incredible documentary about the body image movement, Embrace, which arrives in theaters in the US on September 19th, 2016.