PHOTO: ISTOCK
If You're Interested in a Former 'Bachelor(ette)' Contestant, Try Hinge
It's a sad truth, but most of the people looking for love on The Bachelor and The Bachelorette don't find it. Still, that doesn't mean they won't find it in the world outside the Bachelor mansion—and dating app Hinge wants to help.
While most of the Bachelor nation were watching the beginning of Rachel Lindsay's search for love in the premiere of the 13th season of The Bachelorette earlier this week, alumni of the franchise were invited to begin a search of their own.
to the "Bachelor family", dating app Hinge explained it's come to its attention most of the people who've appeared on the shows are now single.
"Sorry about that," Hinge writes. "While we can't imagine why you weren't able to put (or keep) a ring on it after 3-5 non-exclusive dates over a nine-week period, we do believe our formula will finally help you find what you're looking for."
Hinge promises the former Bachelor(ette) contestants its members are on the app "for the right reasons," and that if they give the app a try it can be "the final stop in your roller coaster journey to love."
In fact, they're so confident that they're making the Bachelor family an offer. If any former Bachelor(ette) contestant gets engaged to someone they meet on Hinge, the app will pay for the wedding.
"So cheers to the journey," it writes. "This time with fewer tears, meat plates, blurred out body parts and (sorry to break it to you) helicopter rides."
Bachelor(ette)s are nothing if not practical, so it wasn't long before some former contestants jumped on board.
At the end of Season 10 of The Bachelorette, Andi Dorfman said yes when Josh Murray asked her to marry him. Less than a year later they broke up. Murray then went down on one knee and asked Amanda Stanton to marry him on Bachelor in Paradise. 
Surprise, they broke up too, so now Murray is taking Hinge up on its offer and joining the app.
I'm thinking my tv days are numbered so sign me up 🙋🏻‍♂️

— Josh Allan Murray (@JoshAllanMurray)
Any good one liners from the guys coming out of the limo I can use on the ?? Helppppp

— Josh Allan Murray (@JoshAllanMurray)
JJ Lane from Kaitlyn Bristowe's season and Bachelor in Paradise also accepted Hinge's rose, bringing fellow alum Jared Haibon along for the ride.
Deal. Gotta find a bride, but that's a small detail. You down for this, ? https://t.co/xaZcQHL1M5

— JJ Lane (@jjhlane)
In! Also, I plan on having a HUGE wedding

— Jared Haibon (@haibon_jared)
But former reality show competitors are nothing if not competitive, so Haibon's ex-girlfriend, Ashley Iaconetti—whom he met on Bachelor in Paradise, of course—decided she was going to beat him to the love punch.
I'm going to find a boyfriend on before finds a girlfriend. https://t.co/A7TE9bJ9SX

— Ashley Iaconetti (@ashleyiaco)
In fact, according to Hinge, six Bachelor(ette) alums have already signed up.
In response to this letter, 6 former / joined the Hinge community. Meet them: https://t.co/z5il5UB0O4 pic.twitter.com/Rs9FBOCT5A

— Hinge (@HingeApp)
So if you're looking to steal a second of time with a member of the Bachelor family, it might be time to head to the app store.
MORE STORIES YOU'LL LOVE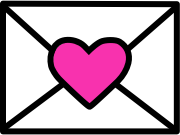 Sign up to receive
instant happy in your
mailbox every day.