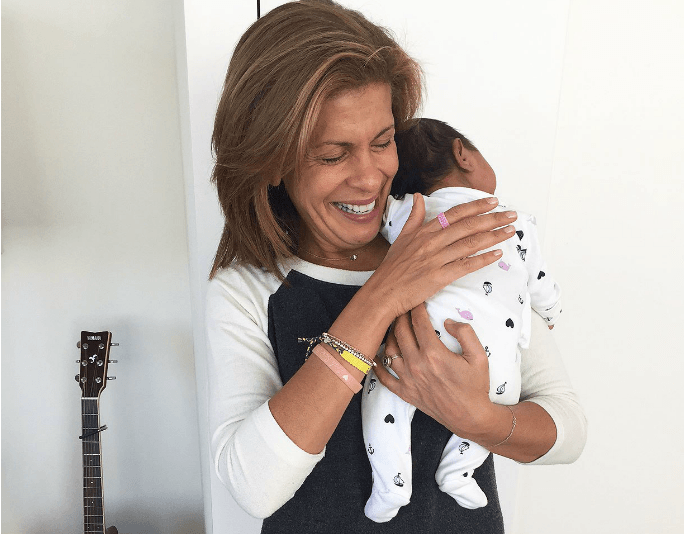 PHOTO: INSTAGRAM/
'Today' Show's Hoda Kotb Adopts Baby Girl
Surprise! Today's Hoda Kotb is a new mom.
The journalist announced on Tuesday she has adopted a baby girl, named Haley Joy. She called into Today to let viewers in on the good news.
"She's a Valentine's baby, so she's a little nugget," Kotb, 52, said during the call. "She is the love of my life!"
Co-host Kathie Lee Gifford breathed a sigh of relief as she joked, "How hard it has been to keep this secret? I have the biggest mouth in the world and I've said zilch."
The new mom revealed that her little one was named after Halley's Comet. "It was one of those things,"she told Today. "I just picture her sailing through the sky."
Kotb credited Haley's middle name to the emotions she's already brought the family. "She brings us joy. She's got a beautiful way about her."
Congratulations have been pouring in for the new mom and daughter:
So thrilled for and her precious daughter, Haley Joy!! She will be the best mommy ever! We love you, Hoda, enjoy every moment!❤️❤️

— Kathie Lee Gifford (@KathieLGifford)
Stunned!! Congrats on your beautiful new baby! You will be the best mom ever!! Love you!

— Carson Daly (@CarsonDaly)
Can't. Stop. Crying. So thrilled for you , . Haley Joy's life will be defined by *JOY* with you as a mama. Love!

— Jenna Bush Hager (@JennaBushHager)
Kotb has been dating financier Joel Schiffman for several years and the two moved in together in late 2016. Baby Haley is about to get the abundance of love she deserves.
No doubt she'll also inherit her mother's strength; Kotb was diagnosed with breast cancer in 2007 and is nearly a decade cancer-free as of 2017.
H/t: E!, Today, The Huffington Post