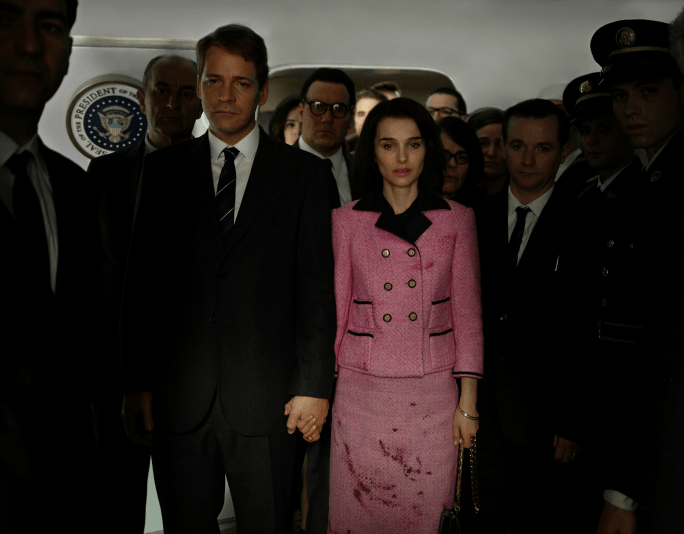 PHOTO: FOX SEARCHLIGHT PICTURES
Review: 'Jackie', the Woman Who Built History Out of Extreme Trauma
No spoilers here.  President John F. Kennedy is dead. Jackie is the story of his extraordinarily famous widow, First Lady Jacqueline Kennedy, set mainly in the days after his assassination on November 22, 1963.
It's riveting.
She's not Jackie O here, or Jacqueline Bouvier; she's just Jackie Kennedy. And if you believe the film, also the woman responsible for turning JFK into a political legend.
What the film asks, I think, is why.
In the beautiful words of The New Yorker's Anthony Lane, the whole thing is a "dance to the music of grief".
Jackie jumps back and forth between a few key moments: Jackie's famous interview with journalist Theodore White (Billy Crudup), her preparations for JFK's notoriously grandiose funeral, flashbacks to her celebrated TV tour of the White House, and of course, the assassination itself.
Jackie is Chilean director Pablo Larraín's first English-language film. It's visually stunning, with historically perfect details filmed in grainy footage to dizzy lurches of music. It's an intense and moving look at grief and trauma, and as a viewer you spend a lot of time in Jackie's head—even as you're trying to work out exactly what she's thinking.
Her pain is intense, and it gets harder and harder to work out whether it's immediate (and there's a graphic recreation of her husbands skull shattering in her lap), or a deeper sadness about the elaborate pageant of her life.
A lot of reviewers are describing Natalie Portman's portrayal of Jackie as "delicate", or "fragile". It's praise (The New York Times simply says, "Natalie Portman, perfect"), sure, but my overwhelming impression from Portman's Jackie is strength.
At every moment, even when she's with her old friend Nancy (Greta Gerwig), Jackie is so, so alone. She's constantly surrounded by men trying to shut her up—even her main ally, JFK's brother Bobby (Peter Sarsgaard)—or women trying to shoo her back into domestic life and leave things to the men.
Her only real confidante seems to be the priest, and even he knows she's performing. But Jackie's "performance", criticized over the years as manipulative and fame-seeking, is fascinating. Because she knows whatever she performs will be her husband's legacy, and part of American history.
There are throwaway references to JFK's affairs, to his abruptly interrupted political career, to his idealism, but the film knows that in this moment, history starts and ends with Jackie.
And so she takes control.
She plans the funeral, insists on a level of pomp and circumstance taken straight from Abraham Lincoln, and keeps her nerve against men—men exactly like her murdered husband—who want to dismiss her as a vain debutante.
She arranges the interview with White to make sure her version of things is the final word, and creates a moment in American history that perhaps never existed, with "Jack's" favorite line from Camelot:
"Don't let it be forgot, that once there was a spot, for one brief shining moment that was known as Camelot."
She is icy in her control, and unapologetic about censoring her coverage. Apparently in his notes for the actual interview, White wrote down, "What does a woman think?"
The power of Jackie is that she has no intention of letting anyone find out.
Jackie isn't about new details of a very familiar story. It's about watching Portman work out how she's going to wrest back her life from people who don't believe she thinks much at all.
It's about a woman coming into her own.
Jackie is showing at cinemas now.