PHOTO: GETTY
Theory: Katie Holmes and Daughter Suri Cruise Are Twins (With Photo Proof)
Not really. But, well, kind of. Move over Reese Witherspoon and Ava Phillippe.
Hollywood has long been obsessed with Suri Cruise, and everything from her famous parents (Katie Holmes and Tom Cruise) to her extremely fashionable attire. And as she grows up, the mind-boggling similarities between Suri and her mother just get more fascinating.
The famous 10-year-old and her equally famous mother are straight-up doubles.
They have the same sense of humor.
They have the same routine.
They even dress the same.
And if you track back, you can see they've looked alike all along.
Here's a mix of pictures of Suri Cruise and pictures of baby Katie Holmes. See if you can guess who is who.
And it seems the twinning actually runs in the family.
Here is Holmes's mother when she was a child:
Those are some strong genes.
Answers: Katie Holmes: 1, 4, 6, Suri Cruise: 2, 3, 5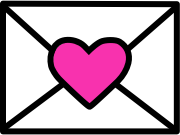 Sign up to receive
instant happy in your
mailbox every day.