PHOTO: GETTY
Inside Jennifer Aniston and Justin Theroux's $20 Million Home
In today's installment of 'Houses We Wish Were Actually Ours', we're thinking about Jennifer Aniston and Justin Theroux's.
Aniston, 47, and Theroux, 45, moved into a $20 million Bel-Air mansion back in 2012 (which Aniston paid for). They've recently finished huge renovations on the house that made it 4,000 square feet larger than it originally was.
You need a lot of couches to fill all that space.
The house was the venue of choice for their top secret wedding in 2015, where the couple invited 70 of their closest friends over for a birthday party…and then a priest showed up.
The house has four bedrooms, six-and-a-half bathrooms (why?), floor-to-ceiling windows and a vineyard. Oh, and it sits hidden away in the hills above a country club.
It's more or less one of the most lavish places we've ever seen, and it's definitely going to give you decorating envy.
There's the pool, which looks like it belongs at a Hilton resort in Hawaii.
There's so much green, which is obviously important for New-York-raised Jennifer.
As we said, it literally floats up in the hills above Bel-Air. You don't get a lot nicer than this.
Now for the inside.
There are floor-to-ceiling windows to make the $20 million price tag worth it, eight thousand seats to entertain friends like Courteney Cox and Chelsea Handler, and lots of places to sit and ignore each other after a fight.
Just a simple, small home for two.
MORE STORIES YOU'LL LOVE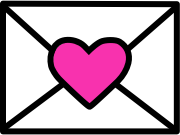 Sign up to receive
instant happy in your
mailbox every day.