PHOTO: ISTOCK
This is the Most Common Engagement Ring on Pinterest
There are essentially three reasons people use Pinterest: to look at pretty food, for interior decorating inspiration, and for planning their weddings.
I use it exclusively for the latter. Am I engaged? No. Am I getting engaged any time soon? No. But that's not the point.
Pinterest is a gold mine for wedding ideas. The 'visual bookmarking' social network is full of images of gorgeous dresses, table settings, invitations, cakes, decorations, flowers, color schemes, and, of course, rings.
Recently, the most-pinned wedding dress was revealed, and now, we've found the most popular engagement ring.
Behold, the 18k white gold, princess cut diamond of our dreams:
Wow.
While engagement rings have always been thought to be incredibly personal (Sylvia Jeffreys' was designed specifically for her, by a jeweler who studied her social media accounts), the world's most-pinned engagement ring is objectively beautiful. It's been pinned 63,000 times, no doubt increasing the traffic to Raymond Lee Jewelers' site, where you can buy the ring for just over $4,500.
The ring has a 1.30ct round diamond, with smaller diamond details surrounding the main stone. It's intricate and breathtaking.
To the surprise of some, however, it's quite simple for a ring that's taken the Internet by storm. It's classic, and definitely not the most expensive ring you can buy online.
But it appears simplicity is popular on Pinterest. Although, regardless of the consensus on social media, nothing compares to being proposed to with a ring that you are completely and utterly in love with.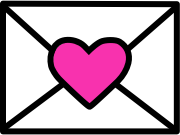 Sign up to receive
instant happy in your
mailbox every day.