PHOTO: GETTY
The New 'Having it All': Super-Married Sexy Life
I thought "having it all" was dead. I thought we had come to the very sensible conclusion that we had been sold a pup with that catch cry because, at the end of a very long day that probably involved a 25-minute search for one sock, a quick cry in the work bathroom and self-inflicted bout of food poisoning, we realized it was an unobtainable dream.
But according to The Atlantic, the idea that women can "have it all" is not only coming back it has been super-charged by the super-marrieds: Beyoncé and Jay-Z and Kanye and Kim. You know, the kind of couples you look to for marriage advice.
I find it really hard to understand Kanye West, but even in my haze of "Huh, I don't get it—did he just say he's 50 percent more influential than Stanley Kubrick and Apostle Paul?", I can see the man's influence (apart from his omnipresence in popular culture; he has around 26 million Twitter followers while wife Kim Kardashian can claim 82 million on Instagram).
In Kanye's music video for his new track, Fade, an oiled-up, gyrating "hot" Teyana Taylor bounces around an unused gym (until she turns into a cat, which we all saw coming).
Word on the music video street is that Kanye was inspired by the idea of "having it all" in a marriage. His leading lady Taylor—a rising R&B singer and dancerLet's talk MILFS—talked to Kanye about being a mom and how loved-up she felt being engaged to NBA star Iman Shumpert.
That same day, The Atlantic reports, he asked her to star in his music video.
"I was just rambling and rambling about Iman and to him [Kanye] it was a dope moment to just see love like that, to see that you can really have it all," she said.
In the last seconds of the clip Taylor transforms from a very sexy, much more porny Jennifer Beales in Flashdance to a very sexy Catwoman on top of a man, baby and some sheep.
That certainly is someone who has it all.
Despite my numerous non-"a-ha!" moments with Mr. West, it's clear the super-marrieds have shifted our perception of what's sexy in a relationship in two ways.
Becoming a mother somehow, miraculously, shoots up the need to be sexy up "having it all" charts. You cannot lose this power. Cook, clean, give birth, work, raise children, be a loving partner, daughter and friend, but Goddamn, the ultimate in powerful womanhood is to add off-the-charts sex appeal to that mix.
The above-mentioned sex appeal is not as simple as it looks. You are not just throwing it out there to your partner, silly. You need to throw it out to the whole world. It's all about ENVY SEXY. It's not good enough to have a wife you want to have sex with; other men have got to want to have sex with her too. Otherwise what makes you two so special as a couple? Love? That's just old school phooey.
Envy is a major component of the new "having it all", because in the social media landscape if you have it all and no one sees it and envies you for it, do you really have anything at all? (OMG, I sound like Kanye. I'm now 50 percent more influential than Apostle Pete). It's the 2016 version of "If a tree falls in the forest".
The original "having it all" checklist came to sparkly life in 1982 when the 60-year-old editor of Cosmopolitan, Helen Gurley Brown, wrote a book for single women: Having It All: Love, Success, Sex, Money . . . Even if You're Starting With Nothing.
Decades later, having it all morphed into a roll call of accomplishments that women who wanted to combine career and family were expected to tick off. You know—great career, great kids, great dinners, great happiness, great body, great life. Pretty hard if some nights you can't even manage to work the microwave.
The unrealistic expectations, the set up for failure, the constant feeling of judgement simply even made breathing hard so women stopped talking about "having it all" and moved to "balance" and "leaning in" and other catchphrases that when translated still meant: Something is going to give in this, and let's hope it's not me.
Adding "envy sexy on steroids" for wives (not husbands) is kind of amusing, if it was dismissed out of hand. But it's not. The message—"I'm not sexy unless the whole world wants me"—filters down and the desire to be that filters out.
Look around at women posting pictures declaring they have their pre-pregnancy body back and the cult of MILFs.
Of course women can be sexy, but there's something sad about your sex appeal being based on being coveted by those we don't even know. Isn't it hard enough, anyway, to impress those we do know?
The super-marrieds can add supercharged "envy sexy" to their relationship must-haves checklist and I'll wait to see how long they can keep up the show.
The best marriages get old and even more intimate. I wonder if they envy that?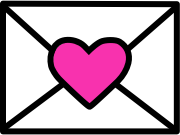 Sign up to receive
instant happy in your
mailbox every day.