PHOTO: GETTY
News Bite: Angelina Jolie Protests Refugee Ban in 'The New York Times'
In response to President Donald Trump's recently instated refugee ban—an act that's caused backlash from civilian protests to wide-ranging political disapproval—actor Angelina Jolie penned a moving op-ed for The New York Times. She insists it needs to be "based on fact, not fear".
The longtime humanitarian noted in her piece that fear of threats against the United States are justified, but measures taken in protecting the country shouldn't stem from a place of assumption. She repeats a point being made by many this week—that many refugees are running from terror themselves.
"Refugees are men, women and children caught in the fury of war, or the cross hairs of persecution. Far from being terrorists, they are often the victims of terrorism themselves…

"We can manage our security without writing off citizens of entire countries—even babies—as unsafe to visit our country by virtue of geography or religion."
Jolie examines how the U.S. turning away refugees seeking the country's help risks the burning of bridges with allies, invites national and international instability, and creates the reputation of being a discriminatory nation.
She ends with a plea for an olive branch of "common sense" to be extended, so that the worst refugee crisis since Word War II can be resolved.
It's far from Jolie's first foray into political and humanitarian issues. Like her past efforts, there are bound to be plenty of people who are cynical about another celebrity voice. But plenty of others have resounding praise for the piece. And like them, we're here for it.
Thank you Angelina Jolie. Refugees are victims of terror not terrorists. https://t.co/NuQlCPCiGY

— David Miliband (@DMiliband)
Refugee policy should be based on facts, not fear, writes our Special Envoy Angelina Jolie https://t.co/PxjOkGS33G pic.twitter.com/fnr2Dxu98M

— UNHCR Washington (@UNHCRdc)
H/t: The New York Times
MORE STORIES YOU'LL LOVE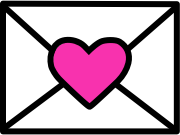 Sign up to receive
instant happy in your
mailbox every day.