PHOTO: GETTY, COMPOSITE: SPRING ST
What Will Oprah's Presidency Look Like? Some Thoughts.
Oprah Winfrey, like so many of us, never thought it possible for a celebrity with no political experience to become the President of the United States.
Yet, here we are with President Donald Trump.
Which begs the question: If he can do it, why can't Oprah?
During an interview on Bloomberg TV's The David Rubenstein Show: Peer-to-Peer Conversations, host David Rubenstein made mention of Winfrey's nationwide popularity and the fact that there still hasn't been a woman elected president of the United States.
"I never considered the question, even a possibility," Winfrey said.
Rubenstein, referring to President Trump interjected: "It's clear you don't need government experience to be elected president of the United States."
"That's what I thought," Winfrey replied. "I thought, Oh, gee, I don't have the experience, I don't know enough. And now I'm thinking, Oh. Oh!"
That's all the encouragement I need. For while other celebrities may say they'd consider a run for President, Winfrey is the only one who is a viable candidate:
• Unlike President Trump, she has run a successful business.
• Unlike President Trump, she's gone out of her way to create opportunity for those less fortunate.
• Unlike President Trump, she understands what it means to live in poverty, what it's like to be on welfare, and what it takes to get oneself out of those circumstances.
• Unlike President Trump, she admits her mistakes and uses them as an opportunity for growth.
• Unlike President Trump, she surrounds herself with people who push her to be a better person.
• Unlike President Trump, she could unite the country.
And while Winfrey's best friend Gayle King has gone on record saying Winfrey was only joking  and would "never" run for President, I can still hope.
Because just picture it...
After a very easy campaign focused on tolerance and the ability to have anything you want with moderation, Oprah Winfrey is elected President.
Her inauguration is the most watched television event ever, but only because it's Oprah and great TV is what she does.
Everyone is there.
John Travooooollllta.
Juuuuuulliiiiaa Roooooobberts.
Michelle Obamaaaaaaaa.
And of course, Stedman.
In her first 100 days in office, Winfrey and Vice President King reverse all the hate generated by the previous administration and put us back on a path toward a more tolerant and equal America.
I'm with Oprah Winfrey 2020.
MORE STORIES YOU'LL LOVE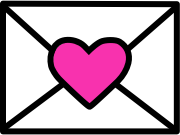 Sign up to receive
instant happy in your
mailbox every day.