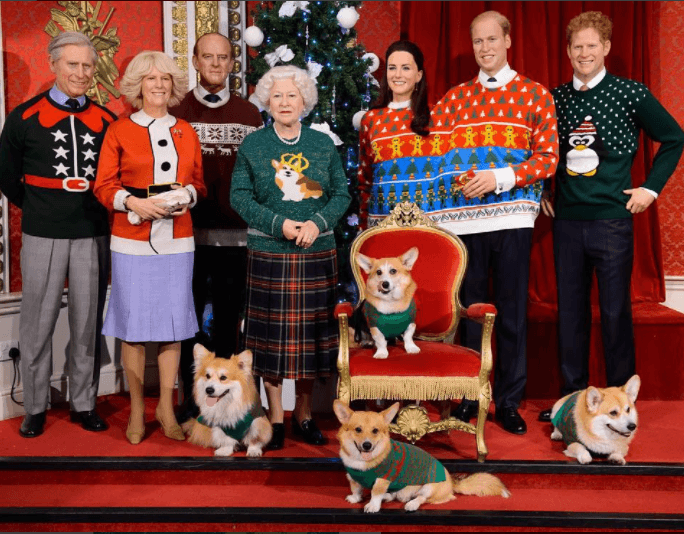 PHOTO: INSTAGRAM /
How Royal Families Around the World Spend Christmas
Christmas is all about traditions. So are royal families. Here's what they're generally up to at this time of year—think of it as research for your fan fiction while you wait for the next series of The Crown.
The British royal family
Kate Middleton, Duchess of Cambridge, and HRH Prince William have had a big year in 2016—mainly, if the photos are to be believed, chaperoning their royal children between high-profile playdates.
But on Christmas, it's all about family.
According to Vogue, the royal clan usually head up to the Sandringham House estate on Christmas Eve, when they also swap gifts—apparently these are "usually of the humorous variety".
Christmas Day is for church services, a full turkey dinner, and at 3pm, everyone sits down to watch the Queen's annual (pre-recorded) TV Christmas address. Then it's games in the afternoon, and a family movie night in the ballroom.
All very normal. Except the ballroom, I guess. Also their Christmas tree is literally covered in crowns. Crowns.
This year, however, Kate and Will are breaking with tradition, and spending Christmas day with Kate's parents, Michael and Carol Middleton. Received wisdom is that this is so the family can spend some precious down-time together while they can, as it will be increasingly difficult to celebrate out of the spotlight once William becomes King. And it seems everyone's on board.
"I think it's wonderful that the Queen is so supportive of William and Kate's decision," parenting expert Lisa Clegg told Daily Mail. "It shows a sign of the Royal family moving into the more modern times and being open to change where appropriate, which can only be a good thing."
The Monaco royal family
Prince Albert II and Princess Charlene—and their children, twins Princes Jacques and Princess Gabriella—hold an annual Christmas party at the palace for local children.
The tradition was started by Albert's mother, Grace Kelly, as a way for the royal family to connect with the community, and in the Christmas spirit, give back a little.
This year, there were 600 children invited. Every one got a specially planned present, and a chance to speak with the monarchs, according to People.
The royal family of Norway
The royal family's annual Christmas photos are a tradition stretching back to World War II, as a greeting to the Norwegian people.
They blend ancient traditions with others added by newer members of the family over the years. For the Christmas Eve meal, they eat grilled baby pork (a Danish custom). Christmas Day itself is spent outside the palace, in the King's private house, or if you're Crown Princess Mette-Marit, in a cabin in the Norwegian mountains.
I mean, fine, if you're into that sort of thing.
The Swedish royal family
The Swedish royals also send out a greeting, but usually in video form.
And because Christmas eve is also the Crown Princess' mother, Queen Silvia's, birthday, there's an extremely Eurpoean-sounding Christmas-birthday feast.
According to Hello!, "There is always a Weihnachtsstollen, a fruit-cake soaked in brandy and covered with powdered sugar," and "a jellied fish dish known as lutefisk".
And apparently, plenty of Christmas trees for all.
The Danish royal family
Like many of the royal couples, Princess Mary and Prince Frederik spend a lot of time in the community in the lead-up to Christmas, meeting volunteers who are helping out those doing it tough.
On Christmas Eve, according to Hello!, the royal children put out a bowl of rice porridge out for Santa's helpers, "known in Denmark as Julenisser".
Sadly, the royal ugly sweater party only seems to exist at Madame Tussauds. For now, anyway. After all, being royal is all about listening to the  people—maybe we just have to ask.