PHOTO: ISTOCK
Have You Ever Thought About Making a Sex Bucket List?
Skydiving, seeing the pyramids, running a triathlon. We all have a list of things we want to do at some point, things we know we'd like to try in order to feel we've fully lived, been our best and most adventurous selves. A bucket list.
But have you thought about making one you can cross off at home? The idea of a sex bucket list has been floating around for a while, but has recently started getting traction for both the physical and emotional benefits it can bring to a relationship—whether that's with your partner, or just with your own body.
What is a sex bucket list?
Exactly what it sounds like: a list of all the sexual activities and scenarios you want to try before you die.
People in relationships can use a sex bucket list to get out of a rut, get to know their partner better, and enrich their sexual relationship as a whole with some safe exploration.
Single people can use their list to figure out what they're actually looking for when it comes to sexual fulfillment. Working out what you like and don't like is a key part of getting sexual rapport happening in any situation. A little bit of self-knowledge can go a long way.
Sexologist Dr. Nikki Goldstein writes on news.com.au that a sex bucket list is a great way to "understand what it is you want and recognize what it is when you do get it."
What should be on my list?
Obviously everyone's list is going to be different because. Goldstein suggests thinking about why you're adding each item to to your list.
"A sex bucket list can be a lot of fun, but is a particular act there because it's forbidden, taboo, something you saw in a porno or something that has always tickled your fancy?" she asks. "You also need to look at the impact of this act and if you are in a relationship, how the other person feels. This is about compromise and communication, not a greedy wish list to Santa."
But really though, what should be on my list?
Some acts/ scenarios come recommended by the experts.
Relationship expert Dr. Jane Greer tells Bustle:
"Everyone must try a scenario where it's all about you and letting yourself go. Your partner does everything to you, and you don't have to feel any kind of guilt for not reciprocating.This can include soft bondage, like having your wrists or legs tied with a scarf or soft rope. This will give a sense of surrendering to the other person. It's important to experience the intensity and power of a total release, free from guilt and shame. Let your body take over and go with the flow."
Gulp.
Sexologist and podcast host Emily Morse tells Redbook a location outside the bedroom is a great addition to any list.
"Be daring and spontaneous. What matters is the thrill of new places and new moves to go with them. You can't revert back to old-fashioned missionary when you're doing it in a cramped shower stall."
But really, it's all up to you and your partner.
The sooner you make a list, the sooner you can start having fun checking it off.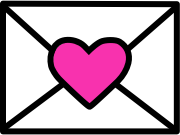 Sign up to receive
instant happy in your
mailbox every day.