PHOTO: GETTY
Sofia Vergara Shares Unseen Wedding Photos on Her First Anniversary
November 22 marked the one year anniversary of the marriage of Sofia Vergara and Joe Manganiello. To mark the occasion Vergara shared some never-before-seen snaps from their wedding.
After a year of wedded bliss, Vergara wanted to share with Instagram just how much she loves her husband.
"Happy First Anniversary love of my life❤️❤️ nothing compares to you.😍😍😍😍 te amo.#thebreakerspalmbeach," she captioned a photo of the look on Manganiello's face as he watched her walk down the aisle on their wedding day. "I will never forget that face❤️"
"Or this one," Vergara wrote along with a photo of them getting down on the dance floor at their reception.
The Modern Family actress also shared an image of the adorable flower girls from the couple's wedding ceremony:
And an image of her and Manganiello's pure bliss while walking back up the aisle after saying 'I do'.
To celebrate their anniversary the couple enjoyed a cake with little fondant figures of them in their wedding best on top. Because if you're as good looking as Sofia Vergara and Joe Manganiello, you should definitely subscribe to a 'you are what you eat' mentality.
For his part, Manganiello shared a image of them during their first dance with the caption, "iFeliz primer aniversario al amor de mi vida!" which translates to Happy first anniversary to the love of my life.
Happy anniversary to the happy couple.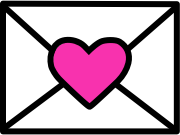 Sign up to receive
instant happy in your
mailbox every day.