PHOTO: ISTOCK
How to Take a Break and Reclaim Room to Breathe
I'm up at 5:45 in the morning, 15 minutes before my alarm signals the start of my morning ritual of breakfast making, toddler changing, and lightning speed life organizing.
By the time my alarm goes off at six, my phone has already beeped too many times to count, letting me know of private sales, news headlines, incoming emails and unread text messages from the night before.
Our his and hers iPads are spontaneously combusting on our dresser, and my husband's phone is blowing up with new data from his usual feeds.
The above scenario is plain ridiculous so early in the morning, but sadly, it's not uncommon in this day and age. So I'm determined to take small steps to take back any down time I may actually still have in the home by carving out mental and physical space for my own sanity.
Here's how I plan to do it.
Unplug
One of the things I love about this picture is the absence of plugs, wires and gadgets. I don't remember the last time my bedside table or wall looked this spartan. The picture coaxes a slow exhale, doesn't it?
Find quiet in unexpected places
It's no surprise that flashes of brilliance almost always come at times when we allow our minds a few minutes of peace.
The persistent hum of the dryer is like a salve to our weary minds, wounded from data overload, so it's no surprise that the laundry room makes for a simple yet often overlooked sacred space.
Say no to high-tech showers
One of my most beloved sacred spaces in the world is my best friend's outdoor shower in the tropics. It's nothing fancy, just a stone shower area with some homemade soap and coconut oil bottles.
But no one ever bothers me when I'm out there, and I never think about where my phone is mid-lather. TVs and music players and phones have their place in the interior, but keep them out of the shower.
Enjoy your own outdoors
We always want to be doing something. Even in the garden, people find it hard to park themselves on a bench to watch a hummingbird lap up nectar (or they do this while pressing send on their phone) for just 10 minutes.
Having a green thumb and cultivating one's garden is perfectly fine, but our spirits would probably benefit from activity-free garden time as well.
Go underwater
MORE STORIES YOU'LL LOVE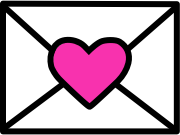 Sign up to receive
instant happy in your
mailbox every day.