For $100 You Can Sweat Your Ass Off in a Pair of See-Through Plastic Jeans
Have you ever been getting dressed and thought, "Man, I really wish I could wear pants, but still have my legs be seen…Oh and I want to sweat…a lot."
Really?
Well, great news, weirdo! Top Shop is making your dream come true.
Top Shop's "Moto Clear Plastic Straight Leg Jeans" are just like regular jeans, but made instead of denim they're made of  100 percent polyurethane that will give you that 'Hey, look at my sweaty legs' look you've been longing for.
And the best part is, they're only $100.
It's like they're giving them away!
"Think outside the box with these out-of-the-ordinary clear plastic jeans—guaranteed to get people talking," the description reads.
"In a straight-leg cut, they feature classic pockets detailing and are cropped at the ankle bone. Ideal as a statement piece for a festival or costume party, take the look to the extreme with a bikini and sequin jacket or dress down, layered under an oversize jumper or asymmetric hem dress."
While the reaction on Twitter has been less than positive, I see these pants as extremely wearable.
CLEAR PLASTIC JEANS ARE YOU FEELING OKAY TOPSHOP? pic.twitter.com/fRQcrhil70

— Angela (@theawkwardblog)
Go home Topshop you're drunk https://t.co/N1in5E3A8L

— Kayleigh Tanner (@DailyKayleigh)
They'd be perfect for showing off that you're actually wearing the correct day-of-the-week underwear, or the fact that you shaved your legs.
And they have the added bonus of being a slight variation on a '90s trend. And as we all know the '90s are very in right now. The Moto Clear Plastic Straight Leg Jeans are basically jellies for your legs.
Sure, those plastic shoes of yore made your feet sweat so much you actually began to smell like a foot even when you weren't wearing them. But they sure were cute.
If you're a little worried about where to wear them, don't worry, I've got you covered.
The pants are just perfect for wearing while listening to Huey Lewis and the News.
And murder.
On second thought, maybe don't buy the pants.
MORE STORIES YOU'LL LOVE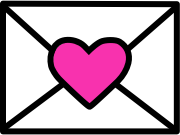 Sign up to receive
instant happy in your
mailbox every day.