PHOTO: COLUMBIA PICTURES
A Wedding Planner Describes the Moment a Wedding Is Cancelled Last Minute
When a wedding is cancelled, for whatever reason, a lot of people are impacted. Your guests who will miss out on their free food, your aunt Janice who just bought a new pantsuit, and definitely your wedding planner.
In a piece for The Huffington Post, Danielle Rothweiler, a wedding and events planner, has written about what exactly happens when the bride and groom split just before their wedding day.
If you've seen the 2001 film The Wedding Planner or if you had a wedding planner for your wedding, you'll know how serious it gets. These people are like maid of honors on steroids, except they carry clipboards rather than a bouquet.
Rothweiler writes about a recent wedding she was planning which was cancelled very late in the piece. "When you're the wedding planner, you're with a couple for months and sometimes years," she writes.
"You see the arguments, you see the love, you see the tears... you see it all.
"No matter if we stay in touch after the wedding or not, I give away a little piece of my heart when the reception begins. I never get it back. Because it's over and we're here and they're married. We made it through it all. When a wedding is called off, we've already been through it all. But the celebration never happens."
Once, Rothweiler was driving when she received a text from her bride. "It simply read, 'I think it's called off.'"
"I called her and from there I heard the story, I let her talk, I made her laugh...and then I heard her cry. I waited until we hung up so she didn't hear me cry, too."
Rothweiler sorted everything: She cancelled the venue, the vendors, and was there for the bride to talk to through it all.
Rothweiler and the bride are still in touch, and looking back she says she'd find it a lot easier to do her job if she didn't get so emotionally invested in all of her clients. But when you're working with love, how can you not?
"I willingly give away a piece of my heart when I let my clients go because I get to travel with them on an amazing journey to their wedding day," she writes.
"And if that wedding day never happens, I will still lose a piece of my heart, but I will be there to gather the pieces of theirs."
H/T: The Huffington Post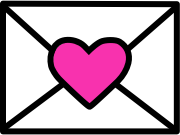 Sign up to receive
instant happy in your
mailbox every day.