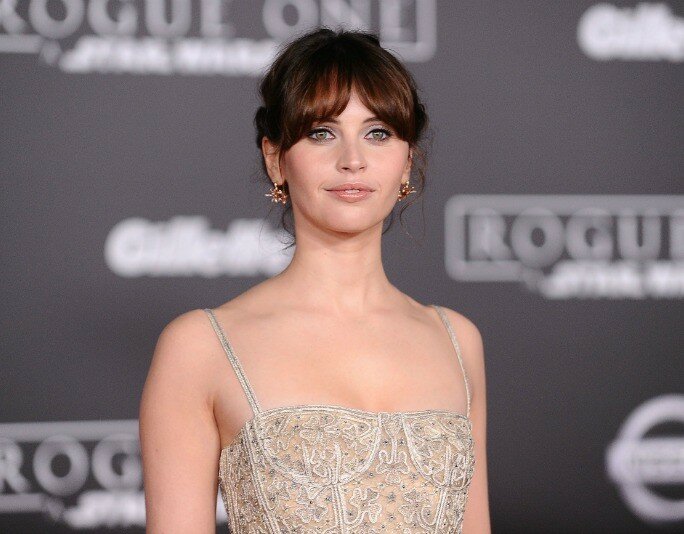 PHOTO: GETTY
2016 Was the Year Women Got Serious About Hollywood's Pay Problem
The fact that women make 80 cents for every dollar that men make is, in short, ridiculous.
It's been a long-held frustration for women across all different fields, but in 2016, the women of Hollywood began using their voices to speak out on the issue.
Though the amounts of money they're dealing with are quite a bit higher than the average person, their refusal to accept such blatant sexism is a feeling every working woman can relate to.
Here are a few of the influential women who made a point to address the gender wage gap in 2016.
Felicity Jones
Felicity Jones, who appeared as a rarely-seen female action lead in Star Wars: Rogue One, negotiated a seven figure salary for the role. This made her the highest earning actor on the film—surpassing her male counterparts.
Jones told Glamour:
"Now younger actresses will have a confidence in those discussions with their agents and be able to say, 'Can we make sure that I'm being paid the right amount for the work that I'm doing?'"
Robin Wright
Robin Wright did right by her no-nonsense House of Cards character, Claire Underwood, when she fought for equal pay for her work on the Netflix series.
Wright stars in, produces, and has even directed episodes of the show, but was still making less than Kevin Spacey before she demanded equal pay from her superiors.
While promoting her documentary at Rockefeller Center in New York City, Wright told the audience of the case she made to her bosses, saying:
"There are very few films or TV shows where the male, the patriarch, and the matriarch are equal. And they are in House of Cards."
Emma Stone
In an interview with Vogue, Emma Stone says that while she has not personally experienced issues surrounding the wage gap in Hollywood, she is well aware of the discrepancy and the problems it causes.
She told the magazine:
"I've been lucky enough to have equal pay to my male costars. Not 'lucky.' I've had pay equal to my male costars in the past few films. But our industry ebbs and flows in a way that's like, 'How much are you bringing into the box office?' 'How much are you the draw or is the other person the draw?'"
Hilary Swank
On an episode of Chelsea Handler's self-titled Netflix talk show, Hilary Swank spoke of the unfairness she's faced throughout her career—amidst critical success and two Academy Awards.
She describes her experience working on Boys Don't Cry, for which she earned only $3,000.
"In order to have health insurance, you have to make $5,000. So I didn't even know that I didn't have health insurance until I went in and tried to get a prescription filled. I had an Academy Award, no health insurance."
Cate Blanchett
In Cate Blanchett's interview on CNN, she discussed the issue of gender pay gaps across all industries, not just entertainment.
The actor said:
"It [Hollywood] does mean exposure. It's the pointy end, it's a very exposed industry in that way. But I cannot name an industry where there's equal pay for equal work."
Natalie Portman
In an interview for Marie Claire, the Oscar-winning actor divulged that her co-star Ashton Kutcher was paid three times as much during the making of their 2011 romantic comedy No Strings Attached.
According to The Daily Mail, Portman told the magazine:
"His [quote] was three times higher than mine so they said he should get three times more. I wasn't as pissed as I should have been. I mean, we get paid a lot, so it's hard to complain, but the disparity is crazy."