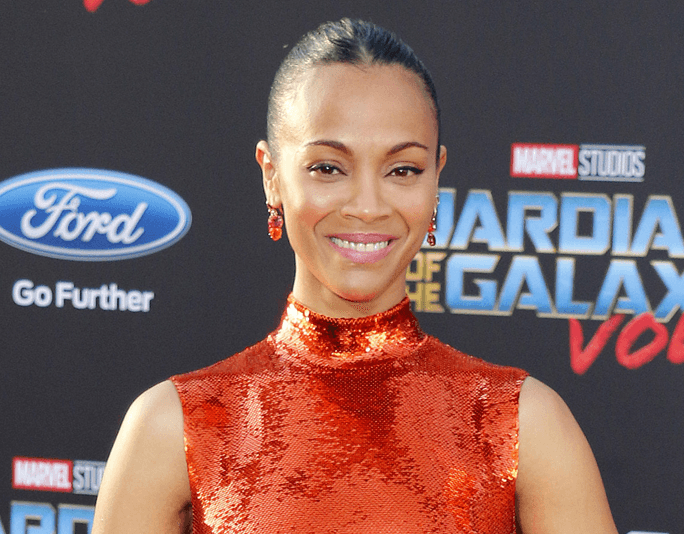 PHOTO: SHUTTERSTOCK
Zoe Saldana on Being a Working Mom of 3: 'I Haven't Slept in Two Years'
Zoe Saldana breathes a huge sigh of relief on the mention of the upcoming third Guardians of the Galaxy movie, which director James Gunn only revealed the day before.
"It's the greatest," she says excitedly. "To be promoting the second, knowing there's going to be a third, it's an amazing validation."
Guardians of the Galaxy Vol. 2, which opens May 5, sees her character, Gamora, re-team with 's Peter Quill and Bradley Cooper's Rocket to save the universe from another gargantuan threat. Saldana admits there are times she thinks about coming back down to earth.
But for now, as Spring St learned, Saldana is making it all—motherhood, marriage to husband, Marco Perego, and saving the universe—work.
What's the pressure been like for Vol. 2, considering the huge success of the first Guardians movie? 
I was very nervous because sequels can be dangerous.
When something hits so well, how can you go better? Could we go better? That was scary, this danger of throwing away what we had just for another role of the dice. The stakes were huge, are huge.
But once we were in it, all that fear melted away. James was in charge and his vision was present and trustworthy and I just hopped on the ride and went with it. So it was very different from the first. Way different. Different-planet different.
Did your character Gamora's role as a mom feel comparable to your own experience?
Gamora has big, stupid kids. I have gorgeous little infants who are far better behaved—and that's saying something. I have 2-year-old twins who like to say "No" a lot.
How is life with such a young family?
I haven't slept in two years! I barely have one eye open right now [laughs]. It's wonderful, more than I could have wished for, but it's also fucking hard.
You know, the twins, they're completely in sync. They eat at the same time, they poop at the same time, two for the price of one [laughs]. The little one is on his own schedule. It's challenging and I'm loving the challenge and loving the love. But it's exhausting and I've never known this kind of exhaustion.
You've got maybe a dozen movies in the pipeline. How do you keep from cracking up?
My husband is my guiding star. He makes it happen for me. While I'm committed to these jobs, he flies out with the boys to wherever I am. He has made it so doable and so comfortable and I'm really blessed to have him on this journey.
It's all about planning, and it's about both of our careers because, yes, right now I have certain commitments. But then it's about laying mine aside and now it's Marco's turn and I'll travel and go do whatever is necessary to make things smoother for him and his work.
It's about meticulous planning and understanding and knowing that both of us have each other's back. That's what you do when you're in a partnership.
How do the twins find life on set? Do they understand get what's happening around them?
They do, more than I thought they would. When Mommy's green, that means she's going to work. They understand Gamora is work. I say to them, "I have to go to work" and they say, "Mommy Gamora, Mommy go green. Mommy Hulk."
So they think you're the Hulk?
They love the Hulk. For some reason, they've really connected with him. We're doing Avengers now and they see Mark [Ruffalo] and in their logic, they see green and they think Gamora and Hulk are from the same family. And now when I raise my voice, it's "Mommy going Hulk."
Doesn't that scare them because Hulk is scary?
I thought it would [laughs]! I thought I could use it to my advantage but I think they find it funny more than threatening.
Has motherhood changed how you tailor your work choices?
My boys are my light. Before that, I think my own approach came from my uncomfortableness in way, always this need to be better [than a man], to beat them and that bred this desire to be strong and aggressive. Strong to me was aggressive and intense.
But now that I'm raising men, all men, which I never really considered would happen, with a wonderful man, it's made me readdress my perspective—that perhaps it doesn't always have to be so emotionally and physically forceful.
Strength comes in many forms. Strength comes in quiet, strength comes in physiological resilience. I'll always love to kick ass, that will never change, but there can be varying shades.
This interview has been edited and condensed.