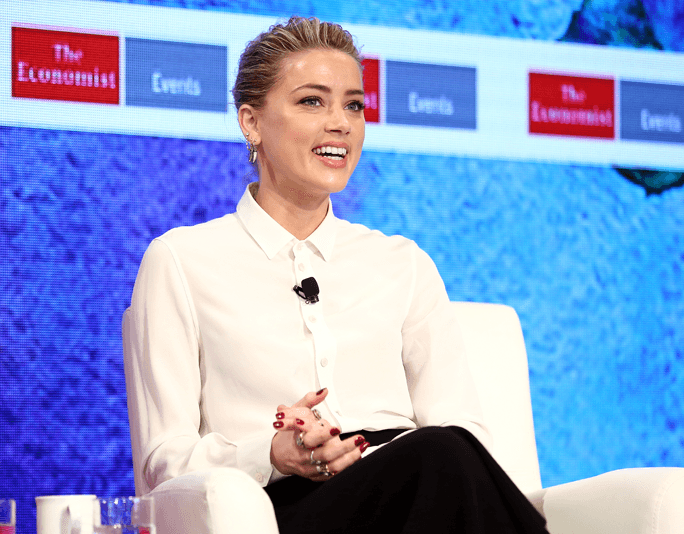 PHOTO: GETTY
Amber Heard Was Told Coming Out Would Hurt Her Career. It Hasn't
In an interview in 2010 with After Ellen, Amber Heard came out as bisexual—now almost a decade later the actor is looking back on that decision.
As reported by E! News, while a guest at The Economist's Pride & Prejudice LGBTQ summit, Heard recalled that her big coming out wasn't really that big of a deal for her as she "was always out" to her friends and family.
"I was never in," she said. "I was in a relationship and I never hid it, and then my career and my life started to change..."
So when first asked about her sexuality and then-girlfriend Tasya van Ree, Heard answered honestly. It was only when she saw the look on her interviewer's face that she realized her honest answer would change everything:
"I realized the gravity of what I had done and why so many people—studio execs, agents, advisors—did not want this coming before my name. I became attached to a label. I've never seen myself defined by the person I'm with."
Heard, like so many actors in Hollywood, had been told that being labeled as gay, bisexual—or really, anything other than straight—would be harmful to her career.
"As a leading lady, there's a certain amount of wish fulfillment. I was asked, 'How is anyone going to invest in you romantically if they think you're unavailable?'" she recalled. "I said, 'Watch me do it.'"
And we have.
"I stand here now amongst many of my romantic leading lady peers who are out and fluid," said Heard. "I'm one of many now and I'm working."
In the years since coming out to the public, Heard has worked regularly in films like The Danish Girl, The Rum Diaries and Magic Mike XXL. She's even taking on a superhero role in the upcoming Justice League—and she's done it all while embracing the responsibility she feels to champion LGBTQ causes.
Heard told the audience she thinks one of the biggest steps needed now is for her male peers to join women on the front lines of the fight for equality in Hollywood.
"If every gay man I know personally in Hollywood came out tomorrow, then this would be a non-issue in a month," she offered. "We have a long way to go."
Heard noted too that the fight is important for storytelling as well.
"If we're meant to reflect the world around us, the whole point of telling stories and reaching audiences is to challenge the status quo, to push the envelope," she said. "Not just to meet the status quo. We're in a unique position to do this. We need to be actively pushing."
H/t: E! News