PHOTO: FACEBOOK /
Avoid These Online Retail Scams. Unless You Really Want a Good Laugh
Online shopping is a godsend for any woman who would rather shop while sitting on her couch in sweatpants than elbow her way through obnoxious crowds for the last size 12 skirt.
So…every woman on the planet.
But occasionally, online retailers turn out to be scams, effectively poisoning America's other favorite pastime.
These retailers, often based in China, lure customers in with shiny, eye-popping photos that turn out to be from legitimate shops. They then send cheap rip-offs to customers—if they even send anything at all.
Tons of Facebook groups have popped up for people to share their scam experiences and warn others to steer clear—, for example. On this page, you can find countless examples of these ridiculous scams that are understandably maddening for the customer…but they're also just kind of funny.
Just take a look at some of these comparisons:
Marie Claire helpfully gathered some other retail sites where customers have experienced similar troubles—and we added a few of our own:
TwinkleDeals.com
A reviewer on SiteJabber said:
"I have never before seen quality this poor. Garments were missing hems, sections of fabric were hanging out of seems, sizes were off by a great deal. The garments did not function as clothing on a basic level. Don't even try to return the stuff."
Oof.
Wish.com
The Better Business Bureau registered 235 complaints about this company over the last three years. That's an average of more than six per month.
FashionMia.com
900 out of the 1,600 reviews on SiteJabber give this retailer the lowest possible rating.
RomWe
Refinery29 gave this retailer one out of five stars—the clothes were nothing like what was ordered.
SammyDress.com
The Better Business Bureau gives this site an F rating.
Rosegal.com
As one reviewer on Reddit said of this company:
"I honestly would not even donate these 'clothes' to Goodwill, as they are not only unfashionable, they are not even functional as real clothing."
Wow. Okay then.
DressLily.com
Reviewers on SiteJabber call this place "trash," "fraud," "ugly," and "thieves".
NastyDress
The Huffington Post strongly discourages shoppers from purchasing items here, after one of their writers received a coat that was much, much too small.
BeckyDress.com
Reviewers say products from here look nothing like the photos on the company's website.
Zaful.com
Another F rating from the Better Business Bureau—yikes.
Word to the wise: If something seems too good to be true, it probably is. Stay safe out there.
H/t: Marie Claire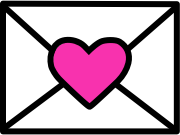 Sign up to receive
instant happy in your
mailbox every day.