PHOTO: GETTY
The Beauty Product You Didn't Know You Needed (Until Now)
Loyalty to your favorite lip product is up there with loyalty to your favorite sibling. People live and die by their lip balm allegiances. There are the old-school classicists, who go with Burt's Bees or Kiehl's. Models, and everyone from Australia, swear by Paw Paw ointment. Your mom just uses Vaseline.
But sometimes, it's fun to change teams.
The new candidate for your affections: lip oil.
It works better—and lasts longer.
No need to reapply every half hour. Lip oil soaks into your skin quickly, smoothing and hydrating chapped lips super effectively in a short period—but its effects last throughout the day.
It looks pretty.
Like a gloss, but some also come with a color or a stain. A nice side-effect of lip oils is the way they make your lips look fuller: plump, fashion-savvy little cushions.
It feels nicer.
Gloss is sticky, lip balm is greasy, chapstick smells like sunscreen. Lip oils glide onto your lips smoothly and evenly, but are luscious enough to have the comfort of a classic balm. And whoever is designing these bad boys gets that smell is important. Many oils are scented with delicious fragrances like vanilla, coconut or ylang ylang - or a combo of all of em.
It's magic.
Kind of. Many lip oils have anti-aging ingredients like vitamins, plant oils, and a healthy dose of essential oils. They take care of your skin, counter the effects of smile lines, and create a moisture barrier that locks in all the goodness.
Lip oils are kind of like conditioner, for your mouth. Save the chapstick for camping.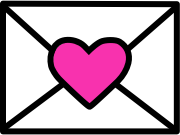 Sign up to receive
instant happy in your
mailbox every day.