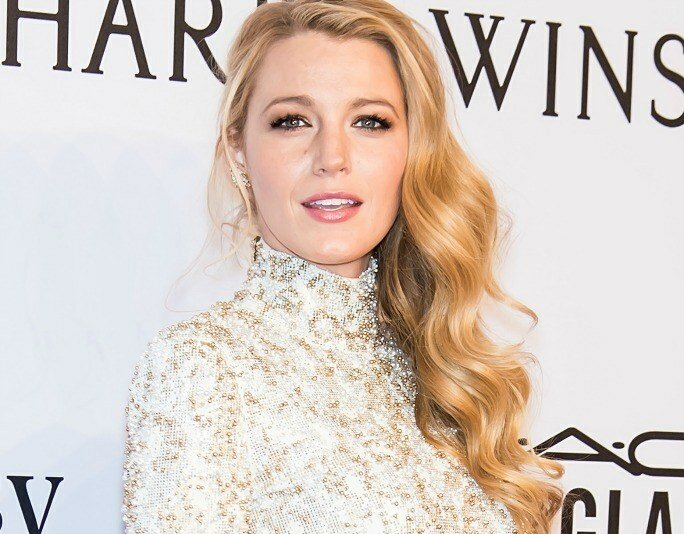 PHOTO: GETTY
Every Single Secret to Blake Lively's Glorious, Glorious Hair
Ah, Blake Lively. Haver of an adorable relationship; keeper of a fantastic wardrobe; and hair muse for blondes everywhere.
The former Gossip Girl star, 29, is the very definition of "Pinterest-perfect beachy waves".
That's why I'm on a constant quest to copy whatever she does in the hair department. (Confession time: I even showed my wedding hair stylist a Blake photo, asking for her retro curls a la the 2014 Met Gala.)
I'm far from the only blondie with Blake Lively hair aspirations. For that reason, I've tracked down every last product and method she's ever disclosed using in interviews.
Here's what The Shallows actress, and wife to Ryan Reynolds, recommends when it comes to…
Shampoo
Blake, who is one of the celebrity faces of L'Oreal, has admitted to Marie Claire that she loves the Kérastase brand, and in particular its Bain Elixir Ultime Shampoo. (Awkward.)
"I have every single one of their shampoos and rotate which one I use — it's best if you don't oversaturate your hair with one product," she says.
Lively's stylist Rod Ortega tells Elle that he does use L'Oreal Paris products on her hair, though. "They make a good all-around shampoo and conditioner that's not so stripping and very gentle," he remarks.
… And how to apply it
Before you embark on your usual lather-and-rinse routine in the shower, you might want to get your hands on some coconut oil or mayonnaise: Lively insists these easily found supermarket products come in handy during hair-washing.
A photo posted by Blake Lively (@blakelively) on
"Something that my mom taught me, which is pretty cool, is that when you shampoo your hair you're just trying to get the oil out of the roots, not out of the ends," Lively tells Harpers Bazaar.
"When you over-clean your ends then you're damaging them because they need the oil," she adds.
"She used to put oil or mayonnaise on the bottom half of her hair before she would shower," Lively tells Byrdie.
"That way, when she would shampoo, the soap wouldn't strip the bottom of the hair and dry it out, making it brittle."
Hair masks — including when to take them out
As any bottle blonde knows, masks are a hair maintenance must-have (unless you're comfortable rocking a head of split ends, which is not very Blake-like.)
Lively has switched between a couple of hair mask favorites over the years: She tells Hello! Magazine (via Daily Mail) she loves Kérastase Reflection Chroma Captive Hair Mask because it helps her achieve her favorite hair look: "full and relaxed."
She also tells Marie Claire that she loves the Wella Professionals Brilliance Treatment Hair Mask because of it delicious scent.
But what's more interesting, we think, is that she skips washing her hair after applying the treatment. "My hair can get kind of frizzy and big, so I leave in a hair mask, rather than rinsing it out all the way," she tells Harpers Bazaar. "That's been a pretty good tip."
How "done" she likes to look
Despite the Pinterest popularity of Lively's more "done" hair looks—including the aforementioned Met Gala style—her personal favorite style is looser and more casual.
"What I normally respond to is when someone looks really effortless and deconstructed, beauty-wise, and their fashion is really grand," she told Harpers Bazaar.
"Someone like Kate Moss is a great example. She'll wear this elaborate outfit, yet her hair and makeup is very deconstructed."
Lively reiterates that attitude in her Hello! interview.
"Often you see people on the red carpet with tight-up dos, but that makes me feel stiff," she says.
A photo posted by Blake Lively (@blakelively) on
Creating texture
In keeping with her preference for a deconstructed look, Lively tends to air-dry her hair when she's not being professionally styled. To create natural-looking curls, she'll often wind it up into a ballerina bun after washing.
Also: To create loose, beachy-looking waves, Lively swears by salt water. Like, actual salt water from the ocean.
"My hair is always better in California than it is in New York, so I got a big water jug and I filled it with ocean, which is probably a really bad idea, but I would put it on my hair, and actually, it worked," she told InStyle. "It's salt and it's water and it makes your hair a little crunchier and holds it a little better."
If you don't live by the water, a texturizing spray can create a similar effect. Lead stylist for Gossip Girl, Liz Reillyi recommends Oribe Dry Texturizing Spray.
"Spray the texture at the root of dry hair for a nice lift and hold," Reilly told InStyle in 2012.
A photo posted by Blake Lively (@blakelively) on
Those Hollywood waves
Once in a while, a special occasion calls for a more polished look. That's where hot tools and protective hair oil come in, as Lively's hair stylist Rod Ortega explains.
"For styling I'm very minimal, so I like to use a little bit of oil, serum or cream to make sure it's protected before I start blow drying," Ortega tells Elle. "For Blake's hair… I go for an oil because it's really light, so it can just pop."
If you're looking to create retro curls, you'll need a good-quality curling wand.
Ortega swears by the T3 Whirl Trio. "I can do 20s, 80s, 2000s with the T3 Trio Wand. You can do really sexy big tight 70s curls [too,]" he says.
The quickest nighttime hairdo
But what if you need to amp up your hair game for after-5pm drinks, sans celebrity hair stylist?
You only need a minute to re-do your look, Lively claims.
"If you're in a pinch, you can slick back your hair in a tight ponytail," she tells Harpers Bazaar. "Take the ponytail and braid it, kind of haphazardly, so that it's not just three pieces of hair. You should take random chunks, braid it, and twist it. It's a more interesting nighttime look that takes about 12 seconds."
A video posted by Blake Lively (@blakelively) on
But don't feel pressured to change your hairstyle just because evening has fallen.
"My go-to nighttime hair look is just my daytime hair look. It kind of just carries over," she says.