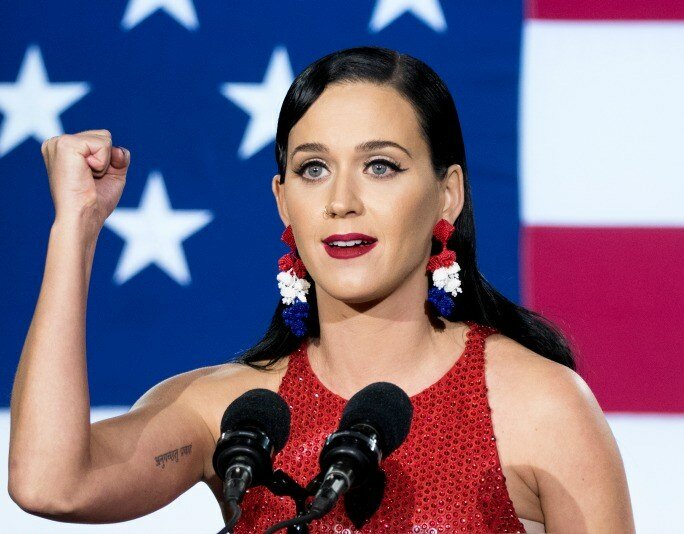 PHOTO: GETTY
Katy Perry, Lena Dunham & Jennifer Lawrence Tell Us Where to Go From Here
Immediately after the election results came in, some of Hillary Clinton's most vocal high-profile supporters turned to social media to let out their emotions. There was anger, sadness, and confusion, but above all, there was hope.
Almost a week has passed and these celebrities are proving they aren't just talk. Stars like Katy Perry, Lena Dunham and Jennifer Lawrence are now channeling their feelings into action.
And we can follow their lead—because nothing makes a statement like actually doing something.
Whether it be a donation to Planned Parenthood under Mike Pence's name or a commitment to never stop speaking up for what's right, we can all do something to make sure our rights and beliefs are still being heard.
This is how celebrities are responding.
Katy Perry
Perry, 32, donated $10,000 to Planned Parenthood on Friday and announced her donation on her Instagram, along with a note about what Planned Parenthood had done for her.
"I am making a public donation to Planned Parenthood for the teenage me who made several visits to first a clinic in Santa Barbara and then Los Angeles, CA to educate myself on my sexual health, a subject I had little to no information on because of my sheltered upbringing," she wrote.
"Planned Parenthood educated me on my body and my reproductive health, so that I could focus on my dreams and using my voice until I knew the timing was right for me to make a plan to have a family. Since then, I have been able to focus wholeheartedly on bringing messages of strength and becoming a voice for others. Without this education, I may have had a different life path.
I am grateful for and stand in support of Planned Parenthood for giving Katheryn Hudson the knowledge to plan, and for continuing to be a haven for women to learn all options for their future. Now, more than ever, we all need to protect and create safe places for each other. I hope I can help inspire you to make a gift as well, and become a member and an ally."
You can donate to Planned Parenthood here.
Amy Schumer
Like Perry, Schumer made a donation to Planned Parenthood—but inspired by actress and activist Amber Tamblyn, she put it under Vice President-elect Mike Pence's name.
Pence's stance on abortion is very similar to that of Donald Trump's, and he's committed to defunding Planned Parenthood. What better way to respond to this than to make a donation in his name?
The organization says it has been blown away by the donations so far and added that many people have been donating under both Hillary Clinton and Mike Pence's names.
Lena Dunham
Dunham has been publicly supporting and campaigning for Hillary Clinton for 18 months and her social media feeds were uncharacteristically quiet after the results. Now we know why.
Dunham has spoken about her thoughts on her website, Lenny Letter, in an emotional essay. It urges us to take action, speak up for what we believe in and never stop fighting for a better country.
"So no, the work isn't done," she writes.
"It is only beginning. We will stun ourselves with what we are capable of. We will laugh with surprise like kids who finally threw a punch back at the schoolyard bully. We will watch our friends in awe as they step forward and demand more, as they recognize and wield their politicized identities. We will not be governed by fear. We will show our children a different way. We will go home like shooting stars."
Jennifer Lawrence
Lawrence shared her thoughts on the election in an essay on Broadly, where she tells readers, "Don't be afraid, be loud".
"We mustn't be defeated," she writes.
"We will keep educating ourselves and working twice as hard as the man next to us because we know now that it is not fair. It is not fair in the workplace, so you make it impossible to fail. And like Hillary, it might not work.
But like Hillary, you can still be an inspiration and get important things done. Do not let this defeat you—let this enrage you! Let it motivate you! Let this be the fire you didn't have before. If you are an immigrant, if you are a person of color, if you are LGBTQ+, if you are a woman—don't be afraid, be loud!"
John Oliver
The commentator and host of Last Week Tonight with John Oliver closed his last show of the year with a powerful speech on the election results and what to do now Trump is going to be president.
Oliver urged his viewers to donate to various organizations that will need help under Trump's presidency, buy newspaper subscriptions, and vote next time.
You can watch his full monologue below.
And in case we haven't inspired you enough, here is another list of ways to get involved and channel your thoughts and feelings into very important actions.
Because every little thing we do counts.