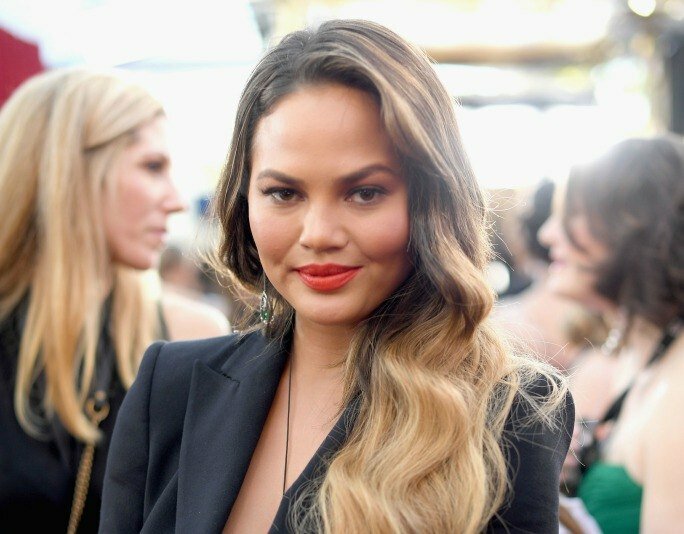 PHOTO: GETTY
When Chrissy Teigen Talks About Postpartum Depression, We Need to Listen
Every few weeks, a celebrity will talk publicly about their mental illness. Whether that's in an interview, an Instagram post or a selfie, these famous people continue to shine a light on topics that are so common, yet still—relatively speaking—not often discussed.
Chrissy Teigen is the latest, but she won't be the last.
The 31-year-old model and cookbook extraordinaire is on the cover of Glamour's March issue, and she's chosen this moment to publicly discuss her battle with postpartum depression in a very honest essay.
Teigen is mom to baby Luna, who is 11 months old. Through her public profile, Teigen's life as a mom looks pretty perfect. There are hundreds of smiling photos of her family—including husband John Legend—and hilarious overshares from their day-to-day life.
But this is the first time Teigen has been so open about her mental health, and we are all listening.
"I had everything I needed to be happy," she begins.
"And yet, for much of the last year, I felt unhappy. What basically everyone around me—but me—knew up until December was this: I have postpartum depression."
She goes into detail explaining what her symptoms were like—she lost her appetite, had little energy and experienced pain in her wrists, shoulders and lower back—and it took her months to figure out what was going on.
"Most days were spent on the exact same spot on the couch and rarely would I muster up the energy to make it upstairs for bed. John would sleep on the couch with me, sometimes four nights in a row. I started keeping robes and comfy clothes in the pantry so I wouldn't have to go upstairs when John went to work. There was a lot of spontaneous crying."
The world saw new mom Teigen out and about at events, filming her show, Lip Sync Battle, and doing the press round after a new baby. But, she explains, when she wasn't doing these things, she was never outside.
"It became the same story every day: Unless I had work, John knew there was not a chance in hell we were going on a date, going to the store, going anywhere. I didn't have the energy.

Before, when I entered a room I had a presence: head high, shoulders back, big smile. Suddenly I had become this person whose shoulders would cower underneath her chin. I would keep my hands on my belly and try to make myself as small as possible."
Teigen spoke to her doctor in December and finally received a diagnosis. She's now on anti-depressants and is starting to feel more like herself.
The reason for sharing, she says, is not just an apology letter to her co-workers, family and friends, but also to remind everyone that postpartum depression can affect anyone.
She may have looked like the happiest woman on the planet—and she's aware of this. But she didn't feel that way.
"Postpartum does not discriminate," she writes.
"I couldn't control it. And that's part of the reason it took me so long to speak up: I felt selfish, icky, and weird saying aloud that I'm struggling. Sometimes I still do."
Teigen's admission is one we've heard countless times before. In fact, even reading her words may make you feel tired. But we need to listen. Every time a woman in a position of influence uses her platform to speak up, it does nothing but good for other women.
Teigen's are usually filled with negativity from trolls who find pleasure in ruining other people's days. But not today.
Today, her social media is a place of comfort and support. While she is yet to post about her essay, her followers have already left inspiring messages in the comments section. From grandmothers who are trying to support their children as they go through the same thing, to new moms who just need to know it gets better.
Sure, the message isn't new. But it's still important. And it will continue to be, because postpartum depression isn't going anywhere. Neither is anxiety, OCD, depression, or any other form of mental illness that women all over the world are struggling with.
If you're suffering, Chrissy Teigen wants you to know she understands. And so do we.
You can read more about the symptoms of postpartum depression by clicking here.