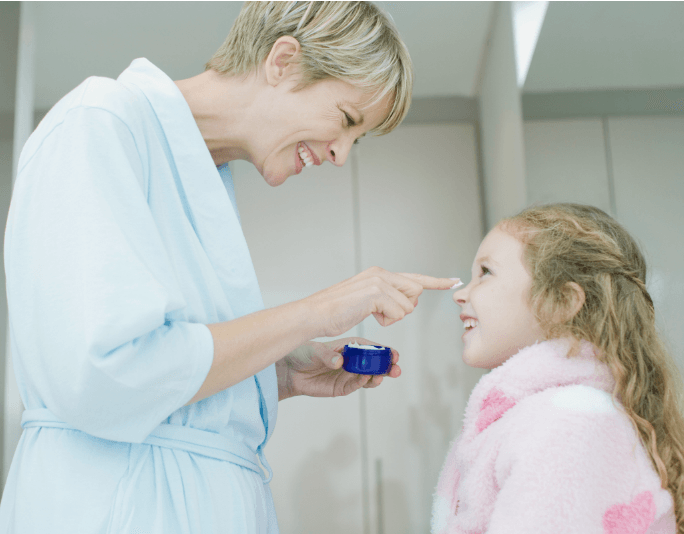 PHOTO: ISTOCK
Wait, What's the Difference Between an Elixir, a Serum, an Oil and a Balm?
Like most things in skincare, there's no regulating body that governs or polices the categorization of products.
Beauty brands get to decide if they want to call something a lotion or a cream, (or a crème, for that matter) or a balm, or a serum, or an elixir.
So what does it all mean?
Mostly, it comes down to marketing.
Companies decide that something sells better when labeled a serum than a facial oil, or they like the French spelling of creme better than the American cream.
But that's not really helpful to you, the consumer, is it?
After a lot of wondering myself, I've figured out a few things you can look for in ingredient lists to help you figure out the form of a product you're considering buying.
Because, bottom line, it doesn't matter what they call it: it just has to work.
Facial oils
The simplest of things are often called facial oils.
They can have as few as one ingredient, like Kahina Giving Beauty's Argan oil, $36, or True Moringa's Simplicity Facial Oil, $26, which is pure moringa oil, rich in the cytokinin zeatin, which is known for stimulating cell growth and delaying aging of cells.
Facial oils can also have multiple ingredients, like this 10-item oil, Echium & Amaranth Age Confidence Facial Oil, $90, from Pai Skincare, which is a wonderful anti-aging product.
Whether you go for a facial oil with one or 10 ingredients, definitely look for one that doesn't contain emulsifiers, waxes, or water, as you're missing the point of the pure oil's ability to penetrate the skin and provide moisture.
The role of Toner and/or Cream with facial oil
While oils provide moisture, they're not going to provide hydration, which requires water (hydro = water). This is why it's important to use both in your skincare routine, adding the hydration part via a toner or lotion that has water, or something like aloe juice, as an ingredient.
A toner like Mun Skincare's Anarose Hydrating Rose Toner, $65, contains hyaluronic acid for firming, aloe for moisture, and rosewater for hydration. As a bonus, you also get prickly pear stem extract, which is calming, and goji berry fruit extract, a potent anti–aging antioxidant, making this toner so much more than just water.
One Love Organics Skin Dew Coconut Water Cream, $58, is an excellent product that provides hydration, which it does with more than 50 percent coconut water. I like to use it on top of my oil or serum, and OLO's founder, Suzanne LeRoux, gives a great explanation of how it works in this video:

Serums
The thing that makes something a "serum" vs a facial oil or lotion is the concentration of effective ingredients. A serum is probably less focused on general moisturizing and more focused on fixing a higher-level problem, such as wrinkles, acne scar removal, or making skin tone appear more even.
It's bound to be rich in antioxidants and vitamins. It often uses ingredients with smaller molecules for greater penetration.
Kahina Giving Beauty's Kahina Serum, $98, is a great example. Compared to the single-ingredient facial oils listed above, this serum contains about a dozen ingredients, and thus can promise more intense, specific results.
It still looks and feels like an oil, which is why many people confuse and equate oils with serums. When you know what ingredients to look for, you'll see that this serum offers more than just moisturizing oils.
Organic coffee oil, though technically still an "oil" by name, and Sea Buckthorn extract are among the super-powered additions that make this serum so potent.
Tata Harper's Rejuvenating Serum, $158, is one of my all-time favorite products, though I initially didn't understand why it is labeled as a serum.
To me, it feels light and creamy, like a lotion or moisturizer, but after using it for a while and seeing the stellar anti-aging results it delivers, I saw why this product should be considered a serum.
While it does add some moisture to the skin via mango seed butter, olive oil, and safflower oil, among others, it also contains a potent, impressive lineup of extracts that provide so much more than a simple moisturizer might promise.
This serum contains hyaluronic acid, repairing elements like arnica and calendula, and unique extras like Daffodil Bulb extract that plump fine lines to temporarily minimize the appearance of wrinkles.
A relatively new serum product I adore is Maya Chia's The Super Blend, $105,—pressed serum brightening moisture concentrate. It looks and feels like a balm, but is classified as a serum due to its incredibly complex ingredient deck and truly high-performance formula. It contains natural astaxanthin, supercritical chia, vitamin C, coenzyme Q10, and many other natural anti-aging ingredients.
Balms
A good balm is water-free, and, in addition to oils, contains super-moisturizing butters, like shea and/or cocoa.
It's usually firm to the touch, melting on contact.
On top of that, it often has bonus healing treatments like calendula, comfrey, or mallow mixed in.
Siam Seas SEAS Elements Beauty Balm, $95,  is a stellar example of a powerhouse balm. Formulated with south-east Asian herbal botanicals, it can soothe acne and replenish hydration, all at the same time.
With a base including argan oil, like you will find in serums or face oils, plus Kokum and Mowrah butters, it adds Blue Tansy and Immortelle, among other things, to make it incredibly rich and powerful.
Elixirs
My favorite elixirs are made by Leahlani Skincare, $52—$68. Brand founder Leah Klasovsy describes these elixirs as substitutes for day or night creams.
She sites their lack of emulsifiers, wax, and fillers as allowing them to penetrate skin better and work more effectively to deliver nutrient-dense nourishment to just about every skin type.
Since the elixirs are completely water-free, Leah recommends applying them to a face damp with either toner or water, to help the skin absorb the nutrients and retain the moisture.
Potions
Prim Botanicals, one of my all-time beloved brands, makes two products they call potions, aptly named Potion no. 1, $26,  and Potion no. 2, $26. Surely, these could both be marketed as serums or facial oils, but the word "potion" has a magical ring to it, and describes both of these delightful formulas perfectly.
Potion no. 1 is great to detoxify and balance blemish-prone skin, while Potion no. 2 is exceptionally moisturizing, and, in addition to facial use, can soothe bug bites, eczema, and psoriasis.
Call them whatever you want, Prim Botanicals, just don't stop making the magic.