A Love Story About My Grandmother, Gan Gan
What does a person's possessions say about them? What kind of story do they tell? In her beautiful short film Gan-Gan, artist Gemma Green-Hope uses stop-motion animation to tell the story of her grandmother.
"My grandmother Elizabeth (or Gan-Gan, as I called her) was a force of nature; she was wonderful," Green-Hope's description of the film reads. "After her death in 2010, I helped my father and uncle sort through some of her possessions. I inherited some of her clothes to wear, books to read, a bicycle to ride. But how do you make sense of all the other things that someone leaves behind, the things nobody sees, boxes full of photographs and bits of string?"
All those bits of string and photographs are animated together to create a beautiful portrait of a life. Through the use of through collage and stop-motion animation, Green-Hope somehow manages to capture Gan-Gan's huge personality and numerous interests in fewer than three minutes. She shows Gan-Gan as more than her grandmother; she shows her as a fun, fierce and fearless woman. She once shot a spider, for God's sake! Green-Hope makes us know and love Gan-Gan.
Bonus info: In an interview with National Geographic, Green-Hope shares some more ways she copes with the loss of her Gan-Gan. She says, "I inherited her lovely blue bicycle, a Raleigh Traveller. I ride it often, and when I do it feels like I am carrying her with me," she says.
She goes on to mention: "I have her hard-backed edition of Christina Rossetti poems, with some gorgeous illustrations. Also just as valuable to me is the notebook I gave her to write down her childhood memories, which I love looking at."
When asked what traits her Gan-Gan passed down to her Green-Hope says, "A love of the sea, and of stories, an energetic nature, and a tendency to jump out of my skin!" The love of stories is evident.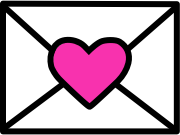 Sign up to receive
instant happy in your
mailbox every day.