PHOTO: INSTAGRAM/
Hoda Kotb's Tearful Return to Work After a Two-Month Maternity Leave
This story was originally posted on April 13, 2017 and has been updated here.
Hoda Kotb has officially returned to her post at the Today Show this morning after a two-month maternity leave.
"I'm scared to be sitting here," she said. "I'm a little afraid that I might explode into tears."
Fans lined up outside the studio to greet her, and her co-hosts were equally thrilled to have her back on the show.
Kotb admits it was difficult to leave her daughter before coming to work, "But, I have to tell you, when I walked in, there's something about looking into the eyes of people who are just happy for you that makes me explode, which is why I was doing that with all of you guys and everyone who is out here."
Two months after adopting daughter Haley Joy, new mom Hoda Kotb announced she is returning to work on the Today Show from Monday April 17.
"Now you can see more of Hoda every morning with Matt and Savannah," said a promo that also aired during Today on Thursday morning. "Join us as we welcome her back."
While Kotb has not been going into work during her two-month maternity leave, she has been letting work come to her from time to time, calling into the morning show to check in and share updates on Haley Joy.
"I want to say something to you, Kath, on our ninth anniversary, my life has changed so profoundly since I met you," Kotb said through tears. "I told you this before, but I cannot believe the path my life took after our lives intersected. So for every single day of the nine years, I love you."
"You've changed mine, too, Hoda," Gifford replied. "Honestly, I have been blessed in my life two times to work with the most extraordinary people in the world and it just keeps getting better, and I love you and come home to us soon. OK, baby?"

Kotb has been spending some time with her Today Show family—but unlike most moms who load up their baby and all the gear to visit their office, Kotb's co-workers came to her.
Matt Lauer:
Al Roker:
Savannah Guthrie:
Kathie Lee Gifford:
Yes, instead of taking her baby to work, Kotb took her work to her baby.
And while Kotb is likely wishing she had more time to spend with her daughter before returning to work, the Today Show seems like a pretty great place to come back to.
H/t: Today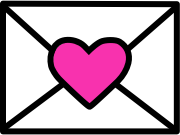 Sign up to receive
instant happy in your
mailbox every day.