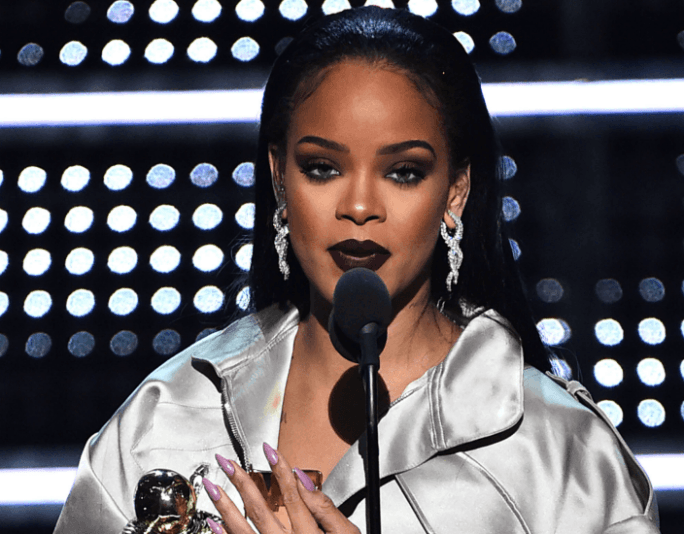 PHOTO: GETTY
What's Inside Rihanna's $19 Million House
It's hard to say what the best thing about being Rihanna would be.
She's had a good week. She was presented the biggest honor at the VMA's, the Michael Jackson Video Vanguard award. She has Drake declaring his love all over the place with speeches, and kisses, and dinners, and…billboards:
And she also has this lovely house, in Saint James, Barbados. It does not look at all bad.
Not the whole thing, it turns out, just one condo, out of eight, at the One Sandy Lane estate (which sounds way more rustic than this looks).
Or, if you prefer to take your measurements in rooms: five bedrooms, five bathrooms, three partial bathrooms (shower, sink, toilet for all those people who can't fit into the other five bathrooms), a pool, a spa, a gym, a tennis court, and a beach. Does a beach count as a room? It does if you're Rihanna.
And despite these beautiful fans, it also has air-con. Even Rihanna, even Rihanna-looking-out-over-sweeping-ocean-views, gets hot.
The living area opens out onto these Game of Thrones-worthy marble terraces, which almost have you smelling the fresh sea breeze. So if you're Rihanna, it's time to put your phone on airplane mode, ignore all the Snapchats Drake keeps sending you, and kick back.
The villa is right on the beach, because of course it is. But don't worry—even thought it looks super accessible, the whole estate is secure, from guards patrolling the boundaries to closed-circuit cameras and "biometric fingerprint technology", according to the One Sandy Lane site.
You can forget about your rabid fans, and let yourself get pampered by staff "trained to anticipate your every whim". Apparently, "They will fulfill every desire, remember it and honor it—time and time again." Which doesn't sound so different to a rabid fan, but hey, it's all about context.
Maybe they can run you a bath.
Orask the professional chefs to prepare you a meal in your shiny, shiny kitchen.
Or, I don't know, play Monopoly or something in your exquisitely tasteful lounge.
Before you go upstairs to one of the five bedrooms which aren't pictured on your real estate agent's site.
It's okay, you're renowned for your creative talent, you can picture them (hint: they're probably draped with gold fur).
After your nap, you want to swim but you're not really in an ocean mood, so you can head out to the pool.
Yep, the one next to the other marble patio, and the spa.
The beach is nicer in the evening, anyway.
According to the One Sandy Place website, it's "Barbados's most desirable swath of sand". Once you acknowledge that this is a hilarious description, you also have to acknowledge it's probably true.
 And it looks like a villa in Saint James.