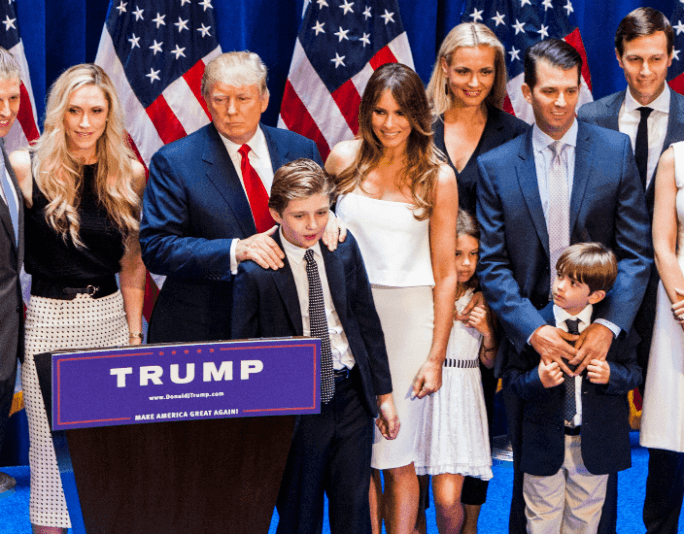 PHOTO: GETTY
A Glorious Insight Into the Strange Trump Family Dynamics
Could Ivanka, Don Jr, Eric, Tiffany and Baron be America's next first family? Oh and Melania. Don't forget Melania - even though Donald often seems to.
This week's Republican National Convention was, in short, a shitshow. There was fear-mongering, Hillary-shaming, and alleged plagiarism. And then there was the window we all got into the oh-so-complicated world of Trump family dynamics.
No one knows what it means to be a Republican anymore. Just like no one knows what it means to be a Trump. Can you loathe Donald while liking Ivanka? Is it our imagination or does Donald Trump Jr seem like an OK guy? But wait, didn't he post those photos of him and his brother Eric game hunting in Africa? And where does poor little Tiffany fit into this family of alpha children?
When you have five children aged from 10 to 38 from three different wives, the relationships between them are bound to be complicated.
And so they are. Just by watching them interact with the media, their father and each other this week, we learned so much about family dynamics, Trump style. Here are some of the more fascinating revelations:
Ivanka Trump is Donald's campaign wife
Even before her stepmother Melania scored an own goal with her plagiarized speech, it's been uncomfortably obvious that Ivanka is her father's greatest asset and resonates far better with American voters than Melania ever could.
She's calm. She's reasonable. She looks and sounds all-American. She teases her father just enough to make people like her while stopping well short of insubordination. She also sounds remarkably like a democrat and her repeated referral to herself as a millennial and a working mother is clearly strategic: win over those demographics in which Trump polls disastrously. Ivanka is in charge of bringing the ladies and balancing accusations of misogyny that her Dad just can't seem to avoid.
"He will fight for equal pay for equal work, and I will fight for this, too — right alongside him," Ivanka Trump said in the speech introducing her father and confused Republicans cheered for a sentiment that has never appeared in any Republican candidate's policies.
Ivanka stands front and center as the only woman with power her father seems comfortable with.  Only she could get away with saying things like "make childcare affordable" as she did in her convention speech without Trump's orange head exploding. She is clearly the favorite child if not his favorite of all the Trump women, including his wife who is set to be sidelined even further for the rest of the campaign.
Donald Trump Jr. is jealous of his sister.
When asked about how he thought his sister would do the day before she gave her convention speech, Don, as he's known, observed that she'd be great because "she does the Princess thing really well". Ouch. With his slicked back hair and his own well-received speech, Don Jr. is clearly gearing up for a future career in public office.
But unlike his father, he's aware of how important it is to make it seem like he understands the working class (even if he doesn't). "We're the only children of billionaires as comfortable in a D10 Caterpillar as we are in our own cars," he said, convincing nobody.
Melania's role is unclear - especially to her.
Trump's third wife emerged this week after staying behind the scenes during the campaign, only to embarrass herself with a plagiarized speech. Now, she will most likely support her husband from a safe distance. After growing up in communist Yugoslavia, it makes sense for her to remain silent, her thick accent a stark contrast aside her immigrant-bashing husband. Her role is complex. She's not the first wife, or even the second. And Ivanka is clearly the favorite Trump woman among voters and within the family.
Eric is a classic middle child.
He's both the third oldest and third youngest of the Trump children and it shows. He's not Donald Jr, he's not Ivanka but he's still part of the original and most influential of Trump's offspring.  "It's an honor to be here for a man I love so, so, so much," he said and that was about it. Eric was mostly there to heap praise on his other siblings and to bash Ted Cruz. He had no impact, and nobody remembers his speech.
Tiffany Trump is a little girl lost.
Did someone say Outsider? Watching the siblings interact at the convention this week it was obvious that the 22-year-old from Trump's second marriage to Marla Maples didn't quite fit in. She seems to have spent virtually no time with her father, after he and her mother divorced when she was three. Marla and Tiffany went to live in California and according to her speech, it seemed like she barely saw her father after that.
Her speech itself was revealing, every anecdote she told didn't actually have him in it other than as a remote presence, writing notes on her report card (a copy of which was presumably sent to him by her school) and phoning her after a friend died. When Trump mentioned his first and third wives, Ivana and Melania in his speech, referencing "what a job" they did of raising his children, you could feel her face fall. Mercifully the cameras didn't pan to her, the humiliation in the oversight must have been mortifying.
Barron is just an afterthought.
He came, he clapped, he yawned. As the youngest in the family, he wanted to be anywhere except for the RNC and who could blame him. Nobody cares about Barron and Barron does not care about this election.