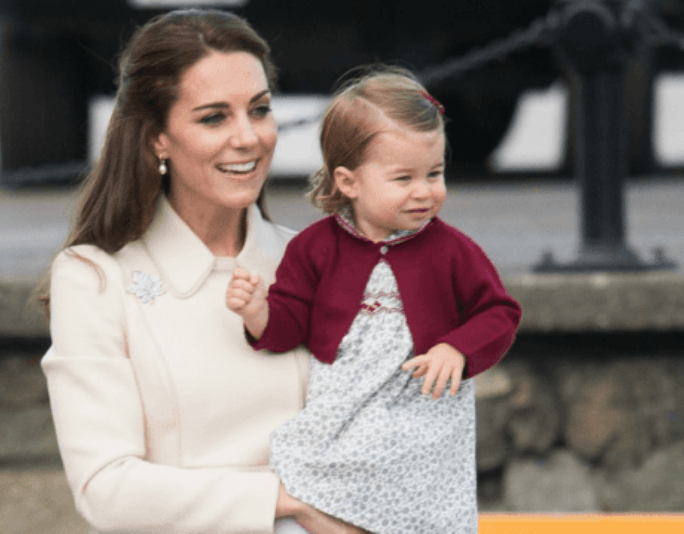 PHOTO: GETTY
Kate Middleton's Cover May've Been Blown in a Popular Online Moms' Group
Kate Middleton has been posting anonymously on U.K.-based moms' groups to swap parenting stories with other mothers, according to a British publication called Reveal magazine.
"Kate has turned to websites like Mumsnet and BabyCentre for guidance," a source told Reveal.
"She has adopted an anonymous name, and mainly posts questions about issues she and Prince William disagree on, like watching cartoons before bed."
Apparently using the websites has really helped Kate, although "she'd never admit to using the web for advice" the source said.
If it's true—who could blame her? The Duchess of Cambridge is officially just like us.
I knew it—Katie and I (I can call her Katie now can't I?) both birthed little princes. AND we were pregnant at the same time in 2014.
Back then, September 2014, I walked past Kensington Palace when she was inside with morning sickness and I felt for her.
Now that I am pregnant again, I too felt the need for an online community—so I started a  in Australia, where Spring.St's sister site Mamamia lives and breathes.
If the Duchess really has been busted on Mumsnet, she is more than welcome to join us for some mom chat and support.
Because I was curious, I had a quick dig around on Mumsnet and BabyCentre to try and find some insights into my royal kindred spirit.
While I didn't find anything conclusive, here are some comments I like to imagine the 35-year-old mother wrote.
"How do you guys deal with an overbearing mother in law?" 'Willylover_82' posted.
"I am trying to organize my DD's second birthday party but everything has to go through to my MIL," the commenter added.
In another parenting thread about potty training a three-year-old, 'Archerfan22' revealed her pregnancy.
The Mumsnet user said she was dying for a stiff drink after a hard day of toilet training but couldn't—could this be you, Katie?
'Iheartwills82' says: "I feel under immense pressure that my kids are never allowed to have a tantrum or I'll be accused of being a bad mother.
"We tried to go out to lunch yesterday and my DS had a meltdown over an Easter egg, so we returned home. Any ideas on how to calm your child in public?"
In another post, '82imarriedaprince' says: "I want my son to be the King of England one day and I don't think he's ready.  I can't even get him to put his shoes on to leave the house."
In a brutally honest post, 'queenie' says: "I used to have a life. Today I've been playing trains for three hours. I look forward to Wednesday swimming class, I am so bored."
In another thread, 'notaprincess' says: "My husband is losing is hair and is worried I am not attracted to him anymore, how can I reassure him?"
None of the above comments could be identified as real people, but I know that Katie's struggles are similar to my own.
We are all on the same level at 3 a.m. with a screaming newborn or negotiating with a toddler. We are just parents, trying to figure it out the best we can.  In all seriousness, motherhood can be an isolating and lonely time for some.
If the Duchess is reaching out into the online community for friendship and reassurance—good on her.
If only she had joined my fabulous moms' group in London—he would have had a great support network of lovely women who were willing to have a laugh about baby poo and sore nipples.
LISTEN: Bribery Is Dead. Said No Parent Ever, on this episode of This Glorious Mess, a podcast by our Australian kin, Mamamia. (This post originally appeared on Mamamia. You can read it here.)