PHOTO: GETTY
Look at Kirsten Dunst's $5 Million Manhattan Loft. Spoiler: It's Very Cool
Kirsten Dunst has always been cool.
From having Brad Pitt be her first kiss in Interview with a Vampire at age 12, to making cheerleading seem cool in Bring It On, to being a muse for Sofia Coppola, to directing an upcoming film adaptation of The Bell Jar starring Dakota Fanning, Kirsten Dunst is just plain cool.
So it makes sense that the Emmy and Golden Globe nominated actor would have a seriously cool apartment.
According to Variety, the newly engaged Dunst (she's marrying her Fargo costar Jesse Plemons, who played Landry on Friday Night Lights—Texas Forever) is selling her New York City mini-loft apartment for $5 million.
It is small, by celebrity standards.
Dunst purchased the one, possibly two-bedroom, one-and-a-half bath apartment in 2007 for $3.09 million. According to Architectural Digest, she then completely gutted it, creating, well, something Kirsten-Dunst cool.
Exposed brick walls throughout and large southern facing windows give the industrial style loft an urban, feel.
Also, ship light fixture? Cool.
The eat-in kitchen brings in some color against the exposed brick with the dark grey cabinets and the marble counter tops. Commercial stainless steel appliances play up the industrial feel, but the open shelving and the table big enough to seat eight make it feel like a home.
The home's sitting room/ library has built-in bookshelves perfect for housing movie memorabilia and handwritten notes from Sofia Coppola…or you know, books.
It could also be used as a second bedroom.
The master bedroom is a somewhat odd shape but according to Variety, Dunst used the space in, you guessed it, the coolest way possible.
A beautiful wardrobe cabinet serves as a disguised entrance to a walk-in closet.
Come on, that's cool.
Off the master bedroom, the en suite white-tiled bathroom features a glass enclosure shower stall, and a vintage clawfoot bathtub, with a bright tiled floor to add some color.
Oh, and a heated towel rack, because Kirsten Dunst knows how to party.
Damn, Kirsten Dunst is cool.
Now, if you'll excuse me, I need to go research where I can buy that light fixture.
H/t: Variety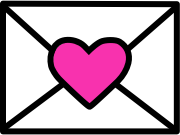 Sign up to receive
instant happy in your
mailbox every day.