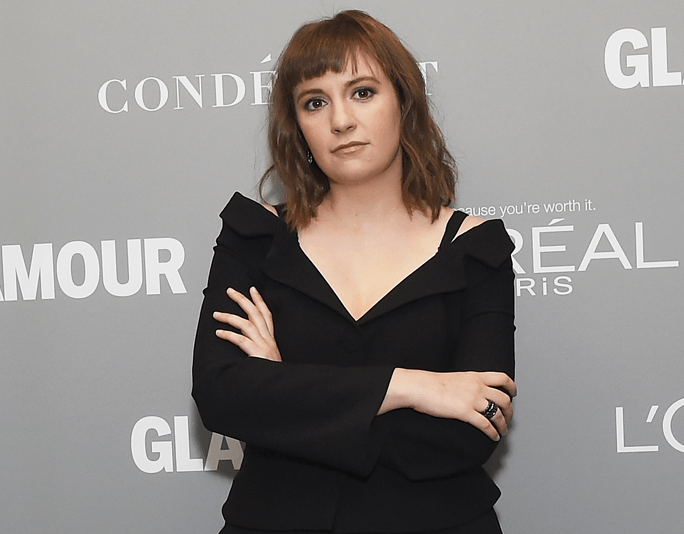 PHOTO: GETTY
Lena Dunham's Excellent Response to a Woman Who Asked If She Was Pregnant
Lena Dunham recently attended a gala event supporting the Los Angeles Review of Books. She went for a Shakespearean look, posting an image to her Instagram with the caption, "Channeling Juliet as I head out for the evening to support, an essential publication".
In response to the photo, one follower commented, "Are you expecting? You look beautiful".
GASP! NO!
Dunham's fans went off a bit on this commenter causing her to pretty quickly try to backtrack, adding, "I don't think it is bad to ask. Just like asking someone when they're due," and "I never said anything rude or mean. I asked if she was expecting and told her she looked great".
I've always been taught that unless you can see a baby coming out of a woman's vagina, don't ask, or remark upon her being pregnant. And as someone who has been asked about my pregnancy, when I was not pregnant, I can say just don't. It hurts.
When a grocery store worker asked me not to grab the diet coke from the bottom of my cart I was confused and asked why. She said, "Well, because you're pregnant right?"
I flinched and quietly said "Um, no" and spent the next few months feeling terrible. In fact, I still think about that moment.
But Lena Dunham is past that kind of hurt. Seeing the argument occurring in her comment section, she decided to jump in and be, well, amazing.
"Thank you," she wrote. "I'm not expecting but I did enjoy a large box of gluten free crackers prior to taking this image. It's funny—folks have told me I looked pregnant/asked since I was 15—I choose to embrace it as another curve like ass or boobs or hip."
So to that grocery store checkout employee I'd like to retroactively say, "No, I'm not pregnant, I'm just embracing my curves".