PHOTO: GETTY
Chanel's Latest Fashion Must-Have Is Celebrity Children
Famous offspring are the new black. Or something.
But seriously, at the Chanel 2017 Pre-Fall show in Paris on Monday December 5, Karl Lagerfeld's '30s-inspired collection seemed to be largely modeled by the very beautiful children of very famous people.
Beauty is a lot about genes, I guess. So, it has to be said, is knowing Karl Lagerfeld.
But the pure poise here is all theirs.
Lily-Rose Depp (a.k.a. Johnny Depp and Vanessa Paradis' daughter)
For those of you who aren't on Instagram at all times of day and may have missed the memo, LRD is international teen royalty. This was her first runway show—and opening for Chanel really ain't bad gig to kick things off.
Kaia Gerber (a.k.a. Cindy Crawford's daughter)
A.k.a. the one who looks uncannily like Cindy.
Willow Smith (a.k.a. Will and Jada-Pinkett Smith's daughter)
Smith seems to have bushels of talent in everything she tries. On Monday, she played the tunes.
Sofia Richie (a.k.a. Lionel Richie's daughter)
Or, in Vanity Fair's words, the "sometimes better half of Justin Bieber". Sometimes the celebrity fishpond seems very small. And also quite fun.
Rafferty Law (a.k.a. Jude Law's son)
You're either born with that kind of ability to wear a turtleneck, or you're not related to Jude Law.
Georgia May Jagger (a.k.a Mick Jagger and Jerry Hall's daughter)
Jagger is a fashion-world veteran. She also looks like the Google image result you'd expect to get if you typed in "elegant aristocrat".
Levi Dylan (a.k.a. Bob Dyan's grandson)
So your grandad wins to Nobel Prize for Literature. No pressure. Play it cool. Walk a few Chanel runways. Then think about your five-year plan.
Selah Marley (a.k.a Lauryn Hill's daughter, and Bob Marley's granddaughter)
And what looks, hopefully, like the advent of the scarf sleeve. I'm into it.
Sistine Stallone (a.k.a Sylvester Stallone's daughter)
Following in the (very leggy) footsteps of her mother, model Jennifer Flavin.
Children of celebrities. They're nothing at all like us. But apparently they do all hang out.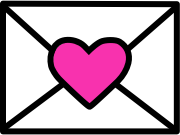 Sign up to receive
instant happy in your
mailbox every day.