PHOTO: GETTY
"No, You Can't Break Up With Mariah Carey for Being Mariah Carey"
Rumors have been flying (probably on private jets), and now the reports are in: magnificent singing unicorn Mariah Carey and billionaire yacht-owner (a.k.a. businessman) James Packer have split.
"It's possible they will get back together," a source told People today. "They are still talking, but James needed a break."
Hmmm. So far, so fair. Relationships can be hard; people need to take time out. I mean, it's only been a bit more than a year since they went public, and a year isn't ages, but still. I get it.
"Some of Mariah's eccentric ways, especially her spending habits, caused drama," the source continued. "James is the most generous person ever, but he definitely doesn't agree with senseless spending."
Wait, nope. Nope, nope, nope.
Look at her, James.
The source says you are "all about business and making money", and I do believe that. You betrothed yourself to a woman who is the personification of money.
Mariah Carey is luxury. There's nothing "senseless" about spending when it's been elevated to an art form. And that is what Mariah has always done.
She literally clothes herself in diamonds.
It's not just the spending, though.
"James is very private, and doesn't need the media to be successful," the source tells People. "He doesn't want to be a part of Mariah's reality show."
Right. So, you don't like publicity and glamor. That's fine, a lot of people don't. I've never met them, but I'm sure they exist. So why did you choose to propose to possibly the most public, glamorous woman who has ever lived?
What part of this glorious package-deal were you not across, James? Mariah is nothing if not consistent. She's been repping diamonds and oversharing in equal measure since the '90s.
To break up with her for either of those things is absurd.
What you obviously didn't see through your strange brown lenses is how lucky you are to have entered the orbit of a living diamond—worth more than all the business assets in the world.
And yes, let's take a moment to acknowledge all these "sources" could be, well, made up. And that you might be happily together again in just a few weeks (or for that matter, right now.)
But over to you, Mariah. You can do better than someone who lets rogue friends cast aspersions on your discretion and ability to budget. Like another source close to you once told People, you were "always a hopeless romantic". Like they said, "She deserves the dream."
You do. So ignore the haters, Mimi, like the inconvenient lock of hair that swished across your face in 'Windy day.' Even if one of them is your possibly-now-ex-fiancé.
They are not worthy.
(P.S. If the glorious red ensemble above is just "Pre-Halloween", bring on Monday. We're gunning for a giant raised middle finger.)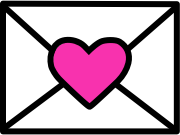 Sign up to receive
instant happy in your
mailbox every day.