PHOTO: BKLYN UNLTD
PLANT Apothecary Is a Skincare Line With a Brilliant Way to Give Back
It's very easy to fall in love with PLANT Apothecary's skincare and body products before even knowing their story. The organic, self-proclaimed "design driven" line looks good, smells amazing, and is, most importantly, effective.
So it's entirely possible you could become a devoted fan without ever realizing that PLANT has a seriously cool working partnership with nonprofit BKLYN UNLTD, through which they provide work and training opportunities for adults with physical and mental disabilities.
PLANT Apothecary's co-founder Holly McWhorter tells Spring.St about her company's partnership with BKLYN UNLTD, the inspiration behind finding such a socially responsible production company, and the personal reason it resonates with her.
So, tell us about your working partnership with BKLYN UNLTD.
"When we first started working with them, they were making all of our products, from scratch, at their facility in downtown Brooklyn.
"As we've gotten bigger and have needed to produce more and more product, though, the workshop's role has changed from doing all of our manufacturing to making samples, helping with packaging, and shipping.
"Their role may change again in the future, but as a company, we're committed to keeping them involved in our production and distribution processes. It's been a great experience so far, and we're looking forward to more work with them as we move forward.
"We also have a sister company, which used to be under the PLANT umbrella but will now be getting its own brand name, through which we sell organic spice and salt kits. The workshop has always made those, and as far as we know, will continue that indefinitely."
How did you first hear about them?
"We already knew about workshops for disabled adults, as we had been working with another one, in upstate New York, before BKLYN UNLTD.
"But we were looking for one that was located in Brooklyn, as we wanted to become part of the local maker community, and we ended up learning about BKLYN UNLTD from Gaia DeLoreto—owner of the now gone, but awesome when it was around, store By Brooklyn.
"She had heard about it from another maker, and passed along the info to us."
What inspired you to make opportunities for adults with disabilities part of your business plan?
"We started working with these kinds of workshops because we realized that there was no reason this underemployed population couldn't do the kind of assembly and light manufacturing work we needed done, and we wanted to give them the opportunity to do it if they wanted it.
"I had been working with similar workshops for another product line before PLANT, and the way I'd come across the first one was by simply searching for an assembly workshop in general—which, to my surprise, turned up a number of ones for disabled adults, mixed in among the usual facilities for fully abled workers.
"Learning about the existence of that kind of workshop really resonated with me, personally, because my mom was mentally disabled for the last decades of her life. She, a former tenured university professor, suffered a brain aneurysm that left her unable to form any new memories—which of course ended her career completely.
"But she never got over the loss of her opportunity to work: To earn her own money, to be of service to others, to work alongside others, and to have somewhere to go each day. People with disabilities need these things just as much as anyone else, and workshops like BKLYN UNLTD provide that."
Describe your interaction with BKLYN UNLTD?
"We go there at several stages of production, from start to finish. At first we figure out on our own the way we think it might be easiest for the workers to make a particular product, but then right away we go to the workshop and run it past Rosemarie Graham, the manager of the particular group of people who work on our products.
"She then fine-tunes—or sometimes completely changes—the process to fit the worker's various abilities. Then once production has started, we'll come back and see how it's going, and sometimes chip in to help if we're there anyway.
"We've gotten to know quite a few of the workers personally over the years we've been working there, so there's always some time spent chatting and seeing how people are doing. Then we might go in to pick up work that's complete, or help pack it up for shipment to a store or warehouse."
What is the most rewarding part of owning and operating PLANT Apothecary?
"A huge part of what makes it rewarding for us is knowing that we're providing work for people with all kinds of disabilities.
"We know how much it means to be able to work, and get paid for it, so it's very satisfying to be able to create those opportunities for people—and also let the public know that work done by disabled people can be just as top-quality as something made by machines in a huge factory.
It's also satisfying knowing that we're providing people with safe, effective, nature-based skincare and bath products—and selling them in places where they're visible and available to people who aren't necessarily already part of the "natural living" trend in the marketplace.
"While it isn't financially viable for us, at our size, to sell our products at prices that would make them affordable for absolutely everyone (though we wish we could), it's great to be able to see them in stores like Target, which are located in communities of all socioeconomic stripes.
"In that way we can at least try to grow awareness about natural, non-toxic, organic skincare options, if not more."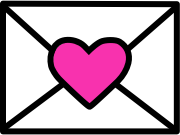 Sign up to receive
instant happy in your
mailbox every day.