PHOTO: ISTOCK
To Be Productive Working From Home, You Have to Get Out of Bed
Most of us spend the majority of our day waiting for the blissful moment we can climb back into bed.
But on days when you're working from home, you never even have to leave the unmatched comfort of your sleeping place.
It's a seemingly wonderful thing, but it can also be quite difficult to get anything done without an office setting to keep you in check.
Here are a few tips for getting through your workday at home. And yes, they unfortunately start with…
1. Get out of bed. 
We know. It's not ideal. But in order to really get work done, it's helpful to set up a workspace outside of your bed.
Create a clean space to work at your kitchen table (or even your couch, if you truly can't pull yourself away from comfortable surfaces) equipped with everything you'll need for the work day.
2. Communicate with colleagues, but not your friends.
Stay in touch with your management and/or employees throughout the day, so you all know exactly what you're expecting of each other.
However, resist the temptation to chat with friends or family all day—it's easy to get trapped into conversations that hinder your productivity.
3. Set your work hours, and stick to them.
If you're not going into the office, try to still keep to your normal working hours. Maintaining your normal routine will aid you in getting your workload accomplished.
4. Take breaks.
Set aside at least one or two breaks throughout the day. Take a walk around the block; watch the news; make yourself a meal.
Maintaining as much structure in your day as possible is the key to working-from-home success.
Just remember that even if you stick to all of these guidelines, the day can still go awry, thanks to…outlying factors (read: your kids).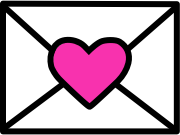 Sign up to receive
instant happy in your
mailbox every day.