Crazy, Wild, Terrible Wedding Guests Stories. Buckle Up...
Have you ever been to a wedding where someone gets so drunk they fall down or vomit? Or where the groom's grandmother starts yelling racial slurs.? Or where the bride's aunt takes the floral centerpiece off her table…as soon as she sits down? We've all seen some crazy things at a wedding, but these 7 terrible wedding guest stories by Brides.com readers put together by Jillian Kramer for Brides on Huffington Post may take the wedding cake.
A wedding is expensive but a lot of people reconcile the cost with the fact that the memories are forever, so imagine how upset this bride was when she got her professional photos back.
"My guests suddenly became photographers for the night. There are guests taking pictures in the background of most of my professional photos, including pictures of me walking down the aisle. Unfortunately, I wasn't aware of the problem until I received my professional pictures back. My advice would be to place a sign at the ceremony politely stating you would like to have an unplugged celebration with no cameras or cell phones." – Sara
Kramer's list includes anecdotes about guests vomiting, assault, vandalization, and thunder stealing.
My personal favorite is this story about a straight up psychopathic cousin.

"My cousin wore a white outfit and white shoes to my wedding. She danced the night away with her husband. She told me later that she knew the photographer and videographer would think she was special and keep her dead center, and she was right. For a long time after our wedding, I couldn't watch our wedding video without hurting inside every time she appeared on screen. I never knew she hated me that much!" – Martyne.
Bonus info: If you relate to any of the guests in the article, then I suggest checking out this article from Brides.com. Also, try therapy.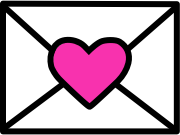 Sign up to receive
instant happy in your
mailbox every day.