PHOTO: GETTY
12 Celebrities You Didn't Know Had Famous Parents
In Hollywood, fame creates fame: From Will and Jada came Willow and Jaden. Sometimes those connections are very well known. Other times, less so.
The following are celebrities you might not know have parents who are famous in their own right.
1. Maya Rudolph
Bridesmaids actor and Saturday Night Live favorite Maya Rudolph is the daughter of late R&B soul singer Minnie Riperton.
In a 2012 interview with NPR, Rudolph said:
"I feel like my mom was part of a generation of people who [had] incredible gifts. There was no sweetening of vocals. There was no Pro Tools then. So I feel like people like her really shone because they were just so incredibly gifted and one of a kind. She was very revered for that reason and very well-respected. My mom was a special, cool lady."
2. Chris Pine
The Star Trek series' Captain Kirk, it seems like Chris Pine gets his good looks in a uniform from his father, Robert Pine.
Robert played Sergeant Joseph Getraer on the beloved late '70s sitcom CHiPs.
3. Abby Elliott
When Odd Mom Out actress Abby Elliott joined the cast of Saturday Night Live in 2008, she was the third generation of Elliotts to be featured on the show.
Her father Chris Elliott was a cast member during the '94—'95 season, and her grandfather Bob Elliott was featured in the '78 Christmas episode as part of his comedy duo Bob & Ray.
4. Rashida Jones
 

on
Parks and Recreation favorite Rashida Jones is the daughter of famed music producer Quincy Jones and Mod Squad and Twin Peaks actress Peggy Lipton.
So that's what makes Rashida, as Leslie Knope would put it, "so brilliant, and kind, and stupid hot".
5. Emily and Zooey Deschanel
New Girl star Zooey Deschanel and Bones star Emily Deschanel are sisters, but they're also the daughters of five-time Oscar nominated cinematographer Caleb Deschanel.
Caleb has been nominated for his work on the films The Right Stuff (1983), The Natural (1984), Fly Away Home (1996), The Patriot (2000), and The Passion of the Christ (2004) .
6. Zosia Mamet
Girls star Zosia Mamet is the daughter of prolific Pulitzer Prize-winning playwright David Mamet.
Zosia tells The New York Times she recorded her audition tape for her role as Shoshanna "in one of my father's oversize sweaters".
7. Lenny Kravitz
Singer/actor/all-around-badass Lenny Kravitz has his mother Roxie Roker to thank for his cool. Roker broke barriers when she played Helen Willis, half of primetime television's first interracial couple, on The Jeffersons (1975–85).
Roker is also the grandmother of Kravitz's famous daughter, Zoë Kravitz.
8. Keira Knightley
Oscar nominated actress Keira Knightly is the daughter of famed Scottish playwright and screenwriter Sharman Macdonald.
Macdonald started as an actress but eventually gave it up due to stage fright, something she thankfully didn't pass on to her daughter.
9. Mariska Hargitay
When Law and Order: SVU star Mariska Hargitay was three-and-a-half years old, she was asleep in the backseat of her mother's ('50s actress and sex symbol Jayne Mansfield) car when they were involved in an accident. Hargitay and her two brothers escaped but tragically, her mother died. 
"Losing my mother at such an early age is the scar of my soul," Hargitay told Redbook in a 2009 interview. "But I feel like it ultimately made me into the person I am today. I understand the journey of life. I had to go through what I did to be here."
10. Mamie Gummer, Grace Gummer, Louise Gummer, and Henry Wolfe
When your mom is the best human being on the face of the planet, it has to be daunting to follow in her footsteps into the entertainment industry. But that's just what Meryl Streep's children with husband sculptor Don Gummer have done.
Henry Wolfe Gummer, 37, is a musician whose most recent album Asilomar was released in 2015. Mamie Gummer, 33, stars on Amazon's The Collection and played her mother's daughter in 2015's Ricki and the Flash. Grace Gummer, 30, currently stars in the critically acclaimed drama Mr. Robot. And Louisa Gummer, 25, is a model who has shot campaigns for Dior.
11. Amanda Plummer
How did I never realize until just now that Christopher Plummer aka Captain Von Trapp is Amanda Plummer's father? pic.twitter.com/zJU3b8JbiC

— Tracy Maher (@tracym)
Emmy award-winning actress Amanda Plummer is most recognizable from her role as Honey Bunny in Pulp Fiction (1994). You may also know her from her as Wiress in 2013's The Hunger Games: Catching Fire. 
What you may not know is that Amanda is the daughter of Sound of Music star Christopher Plummer.
12. Billie Lourd
Scream Queens star Billie Lourd is the daughter of Princess Leia herself, Carrie Fisher, and talent agent Bryan Lourd.
Fisher is the daughter of America's sweetheart Debbie Reynolds and singer Eddie Fisher.
That's a seriously good gene pool.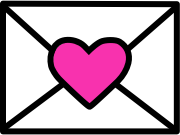 Sign up to receive
instant happy in your
mailbox every day.