PHOTO: GETTY
The Story of How Victoria & David Beckham Met is Seriously Cute
It's the first-time-we-met story of couples the world over.
Partying. Drunk. In da club.
Some find it cringey. I know others who make up more exciting stories to impress people when they ask, "So how did you meet?'
Victoria Beckham has just owned it. (Well, almost.)
In a letter to her younger self, published in British Vogue's October Issue, Victoria discusses everything from falling in love at first sight, to body confidence issues when she was 18.
But back to that love-at-first-sight-across-the-bar-drink-in-hand.
David Beckham and Victoria Beckham attend an afterparty following the 60th London Evening Standard Theatre Awards in 2014.
Set the scene: Victoria's career is taking off. She's renowned as the poshest of spices. She heads to a charity football match, for the purpose of seeing David Beckham play for Manchester United.
This is what she tells her younger self about that night:
"Learn more about football, especially the offside rule. And yes, love at first sight does exist. It will happen to you in the Manchester United players' lounge—although you will get a little drunk, so exact details are hazy.

"While the other football players stand at the bar drinking with their mates, you will see David standing aside with his family. (He's not even in the first team at this stage—you are the famous one.)

"And he has such a cute smile. You, too, are close to your family, and you will think how similar he feels to you. He's going to ask for your number. (He still has the London-to-Manchester plane ticket on which you wrote it.)"
The very beginning of "Posh and Becks'" relationship came in the form of an announcement from David, after he saw Victoria in the 1996 'Say You'll Be There' Spice Girls' film clip.
'That's the girl for me and I'm going to get her! She's my idea of perfection," he said to teammate Gary Neville.
Victoria, on the other hand, had been secretly stalking Beckham through magazines.
"My wife picked me out of a soccer sticker book. And I chose her off the telly. It felt straight away like we'd always been meant to be together," David wrote in his autobiography.
(Just like high school. But in this case, it actually worked.)
This year marks 20 years since "Posh and Becks" met. And 17 years since they married in 1999.
There really is hope for all of us.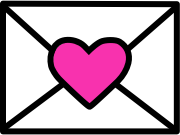 Sign up to receive
instant happy in your
mailbox every day.